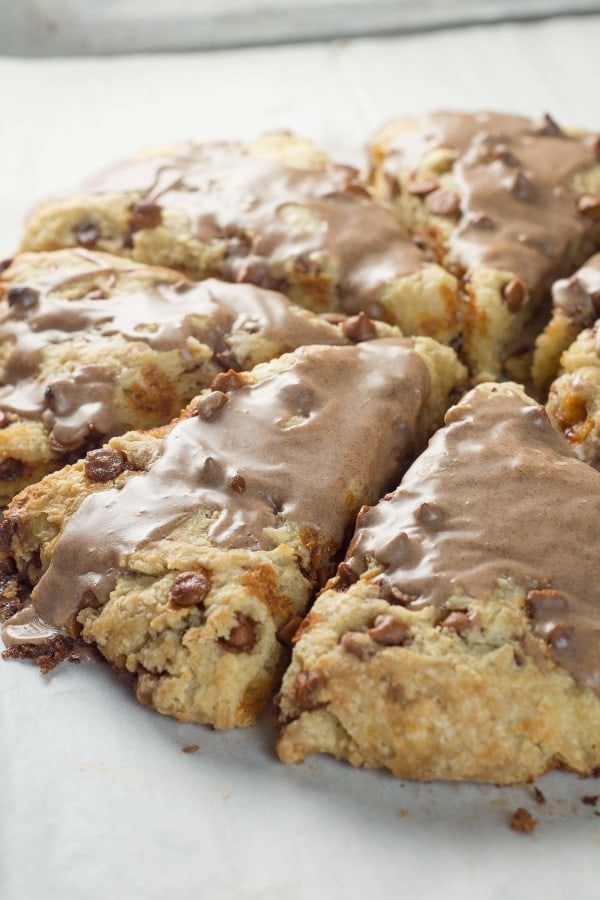 Annnnnd, I'm back.
You didn't even miss me, did you?  Don't answer that.
I took a couple of months off from the old blog.  I didn't want to, but life demanded it.  Lemon Sugar is like a second full-time job that I squeeze into the wee-hours of the morning, well after the sun goes down at night, and for 15-20 hours each weekend.
But, I love it so it's not going anywhere.  I just had to make some adjustments, and now I'm back.
With scones.  I'm back with cinnamon chip scones.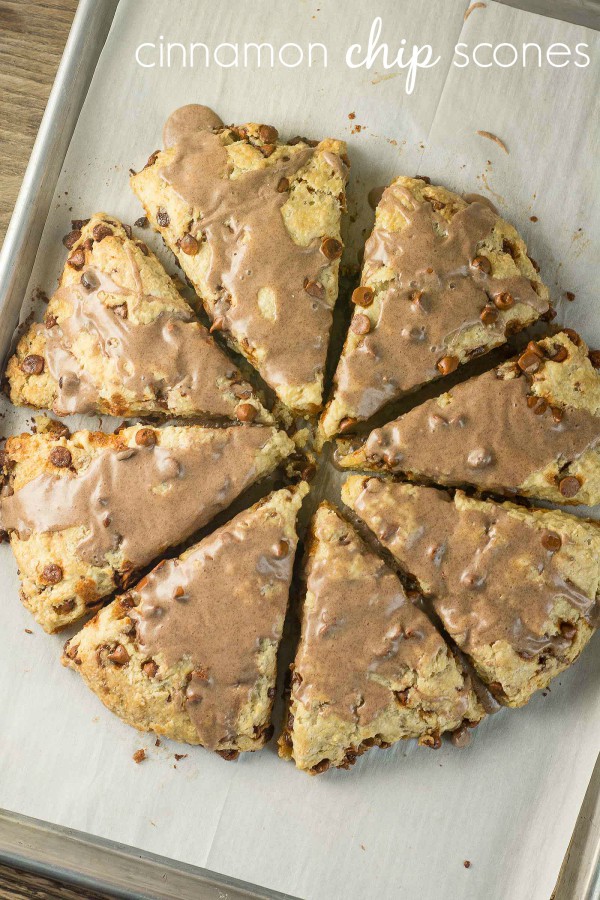 These scones are simply fantastic.  I was inspired by my favorite treat of all time at Panera, and it took a few tries but I finally cracked the code – and maybe made them a smidge better.
They are full of cinnamon chips, and smothered with a delish cinnamon sugar glaze.  They go together in mere minutes, and keep for many days in a covered container.
They are my favorite, and I love them.  They make your house smell like cinnamon and baking yum-ness.  'Cause that's actually a word in cinnamon-scone-world. You'll see.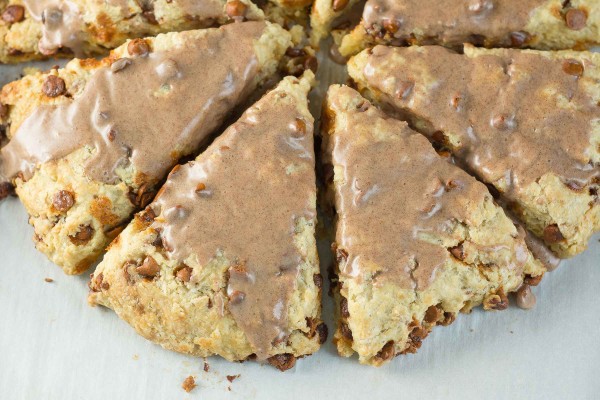 After you mix them all together and right before you put them into the oven, do yourself a favor and smoosh some extra cinnamon chips right into the tops of them.  It makes them prettier and you just can't get enough of those little bursts of cinnamon.
Seriously, I know I'm gushing but guys – these are GOOD.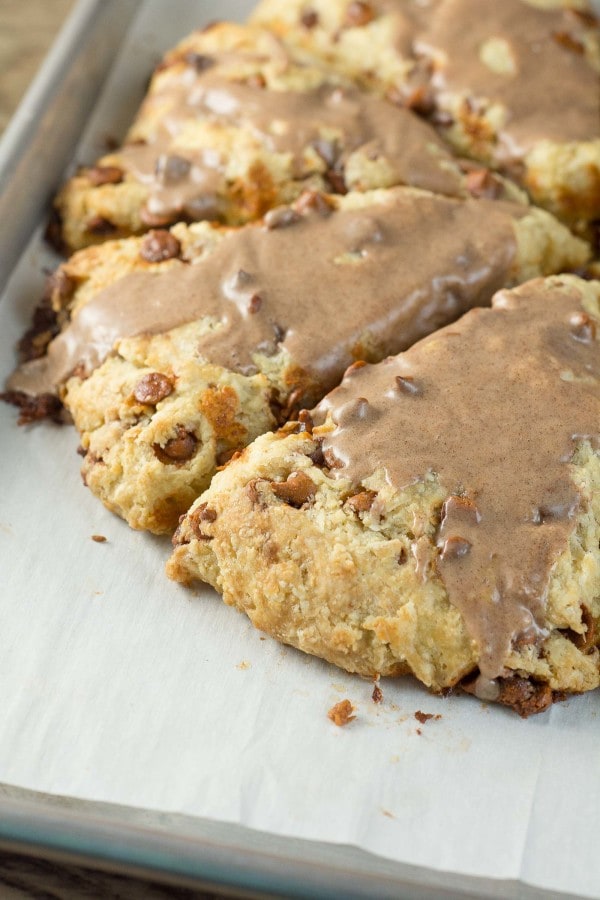 I made mine into larger scones, but if you like, you can certainly cut them smaller.  You just always want to have that triangle shape, because – well, just because.  It's a scone-law.  (Actually the first scone I ever had was round, but I feel like triangle is the way to go here.)
And don't forget to SMOTHER them with glaze – and then let the glaze set for a while because somehow, that makes it better.
Eat 'em warm with a big mug of coffee (or tea if you're fancy) and ENJOY!

Cinnamon Chip Scones
Warm, sweet and spicy, these cinnamon chip scones are flakey, full of cinnamon flavor and sweetened with a delicious cinnamon glaze. Soon to be your favorite breakfast treat!
Ingredients
2 cups flour
2 teaspoons baking powder
½ teaspoon baking soda
½ teaspoon salt
2 Tablespoons sugar
1 stick butter, very cold, grated
1 cup cinnamon chips
1 egg, separated
1 tsp vanilla extract
¾ cup buttermilk
Glaze:
1 cup confectioners sugar
1 teaspoon ground cinnamon
¼ cup heavy cream
Instructions
Preheat oven to 375 degrees (F).
In a large bowl, combine flour, baking powder, baking soda, salt, and sugar. Whisk together.
Using a box grater, coarsely grate a stick of very cold butter.
Add grated butter to flour mixture and use a fork or pastry cutter to combine until a coarse mixture is formed.
Stir in cinnamon chips.
Mix egg yolk, buttermilk, and vanilla in a measuring cup. (save egg white)
Add to dry ingredients and quickly stir until just combined.
Scrape out onto floured surface and knead 6-8 times or until the dough just comes together.
Form into a 12-inch circle, about ¾ inch thick.
Cut the circle in half, then quarters, then eighths.
Place on baking sheet lined with parchment paper.
Brush each scone with egg white.
Bake 15-18 minutes or until golden brown.
In a small bowl, combine confectioners sugar and cinnamon.
Add heavy cream and stir until completely combined. Add a bit more if it's too thick to pour.
Pour glaze over hot scones.
Enjoy!
24
leave a comment your way - using facebook or disqus: