Mexican Hot Chocolate Cupcakes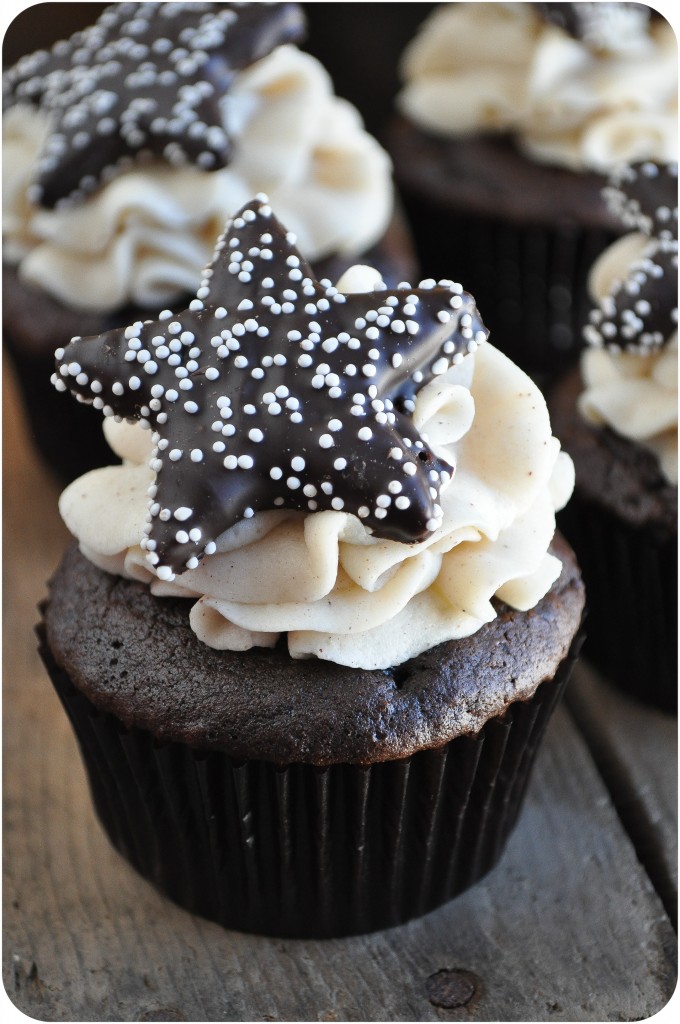 2 cups sugar
2 eggs at room temperature
1 cup milk (whole or 2%)
½ cup vegetable oil
2 teaspoons vanilla extract
1 and ¾ cups all-purpose flour
¾ cup dutch-process cocoa
1 and ½ teaspoons baking powder
1 and ½ teaspoons baking soda
1 teaspoon salt
½ teaspoon ground cinnamon
⅛ teaspoon ground cayenne pepper
1 cup boiling water
3 sticks (1 and ½ cups) unsalted butter
1 and ½ teaspoons ground cinnamon
1 teaspoon vanilla extract
¼ cup heavy cream
⅛ teaspoon salt
6 cups confectioners sugar
Preheat oven to 350 degrees (F).
Line 24 cupcake tins with paper liners, and set aside.
In the bowl of an electric mixer, combine the sugar, eggs, milk, oil and vanilla, and beat until blended.
In a medium-sized bowl, combine the flour, cocoa powder, baking powder, baking soda, salt, cayenne pepper and cinnamon, and whisk to combine.
Add dry mixture to wet mixture, and beat until just combined.
Carefully and slowly add the boiling water and stir/beat to combine until smooth.
Fill the cupcake tins ⅔ to ¾ full.
Bake 16-18 minutes, or until a cake tester comes out clean.
Cool on a wire rack completely before frosting.
Beat butter until smooth.
Add confectioner's sugar, cinnamon, and salt, and beat for just a few seconds to slightly combine.
Add cream and vanilla and beat on low speed to combine, then switch to medium-high speed and beat for 4-5 minutes until light and fluffy.
Add additional cream or confectioner's sugar as needed to reach desired frosting consistency.
Frost and garnish as desired. I used Trader Joe's Dark Chocolate Stars.
Recipe by
Lemon Sugar
at http://lemon-sugar.com/2012/12/mexican-hot-chocolate-cupcakes.html/