Peppermint Bark Cheesecake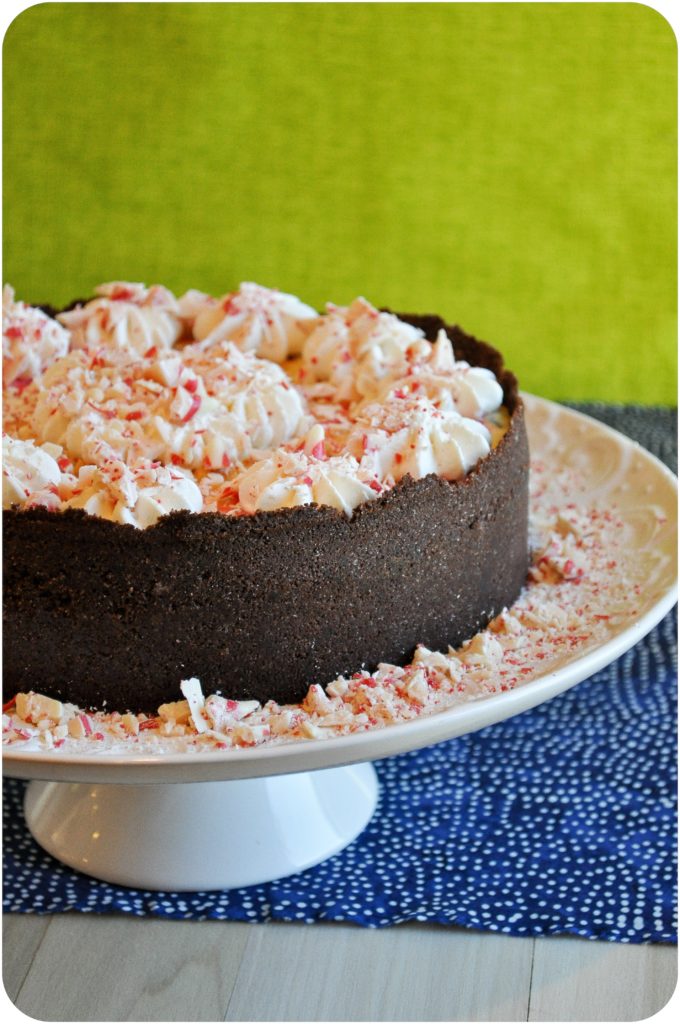 Serves:
Approximately 16 servings
2 and ¼ cups crushed/ground chocolate graham crackers
8 ounces (1 stick or ½ cup) unsalted butter, melted
2 tablespoons melted butter (to prepare pan)
1 cup sugar
¼ teaspoon salt
24 ounces cream cheese, softened to room temperature (3 packages)
4 ounces melted white chocolate
1 cup sugar
1 and ½ tablespoons flour
1 and ½ tablespoons heavy cream
¼ teaspoon salt
2 teaspoon peppermint extract
3 eggs
1 and ½ cups chopped peppermint bark (make your own or use storebought)
½ cup heavy whipping cream
¼ cup confectioners sugar
1 teaspoon vanilla extract
Preheat oven to 350 degrees (F).
Melt 2 tablespoons of unsalted butter. Use a pastry brush to generously coat a Springform pan with melted butter.
Using several layers of aluminum foil, wrap the bottom of the pan to prevent water from seeping in. I use 6-7 pieces of foil and rotate the pan between each layer.
Crush or ground the chocolate graham crackers. Move to a medium bowl and stir in sugar and salt.
Pour melted butter into crumbs and combine with a fork.
Transfer crumbs to prepared Springform pan, and evenly press around the bottom and sides of pan.
Bake for 10 minutes, then allow to cool on a wire rack while you prepare filling.
Reduce oven temperature to 325 degrees (F).
In the microwave or over a double boiler, melt your white chocolate. Take care not to overheat it, or it will seize. Stir until smooth and set aside.
Bring 8 cups of water to a boil while you prepare the filling. This will be used for the water bath.
In the bowl of a stand mixer, beat cream cheese until smooth.
Add sugar and mix well to combine. Scrape the bowl, and mix again.
Add melted chocolate, flour, whipping cream, salt and peppermint extract.
Mix until just combined, and scrape the bowl.
On medium speed, add the eggs one at a time. Mix until smooth and blended well, but do not over beat.
Stir in chopped peppermint bark, and pour mixture into cooled crust.
Bake for 60 minutes, then turn oven off and use a wooden spoon to prop the door open. Allow to cool like this for an additional 60 minutes.
Remove from oven and cool on a wire rack for 45 minutes. Cover the top of the cheesecake with plastic wrap, then transfer to refrigerator for at least 4 hours but ideally 24 hours.
In the bowl of a stand mixer, beat heavy cream until soft peaks form.
Add confectioners sugar and vanilla, and beat until combined.
Top cheesecake as desired.
Garnish with peppermint, and enjoy!
Recipe by
Lemon Sugar
at http://lemon-sugar.com/2012/12/peppermint-bark-cheesecake.html/