Tunnel of Fudge Cake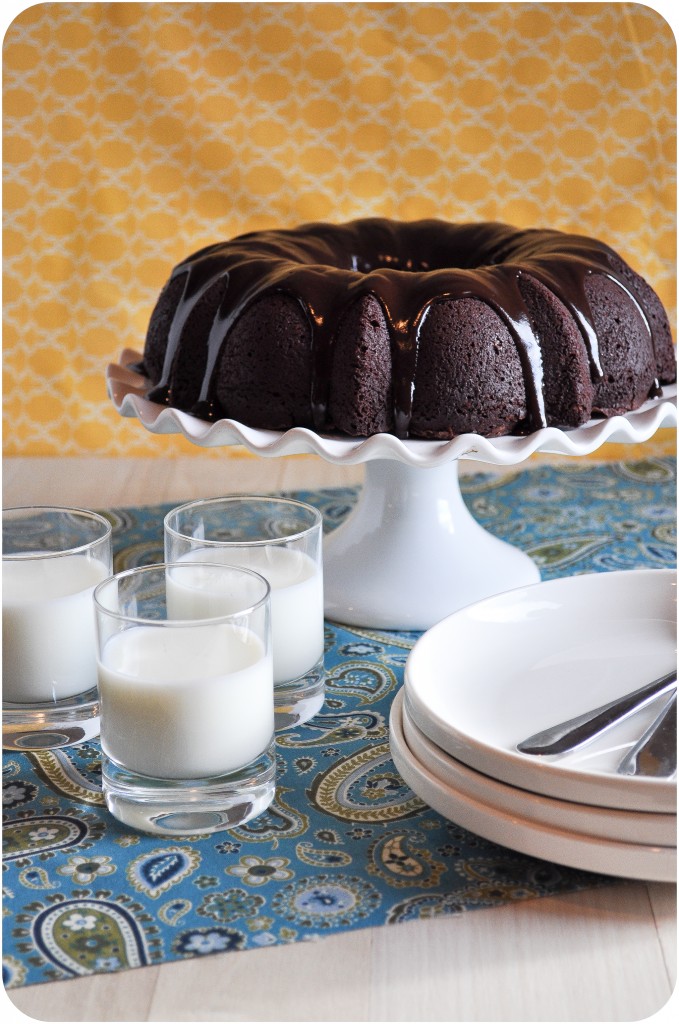 2 tablespoons Dutch-processed cocoa powder
2 tablespoons unsalted butter, melted
½ cup boiling water
2 ounces semi-sweet chocolate, chopped
2 cups (10 ounces) all-purpose flour
¾ cup (2 and ¼ ounces) Dutch-processed cocoa powder
2 cups (8 ounces) confectioners sugar
1 teaspoon salt
5 large eggs at room temperature
1 tablespoon vanilla extract
1 cup (7 ounces) granulated sugar
¾ cup packed (5 and ¼ ounces) brown sugar
20 tablespoons (2 and ½ sticks) unsalted butter at room temperature
¾ cup heavy cream
¼ cup light corn syrup
8 ounces semi-sweet chocolate, finely chopped
½ teaspoon vanilla extract
Preheat oven to 350 degrees (F).
In a small bowl, combine 2 tablespoons of melted butter with 2 tablespoons cocoa powder. Whisk or stir until smooth. Use a pastry brush to generously coat the inside of a 12-cup bundt pan. Set aside.
In a small bowl, pour boiling water over chopped chocolate. Allow to sit for one minute, then stir together to combine. Set aside.
In the bowl of a stand mixer, cream together brown sugar, white sugar and butter until light and fluffy, about 2 minutes. Scrape the sides of the bowl as needed.
Meanwhile, in a medium bowl, whisk together flour, confectioners sugar, cocoa powder and salt. Set aside. In a measuring cup, beat eggs lightly, and add vanilla.
Add egg mixture to the butter mixture. Beat on low until just combined.
Add chocolate mixture, and beat until just combined.
Scrape bowl, then slowly add the flour mixture. Beat until just combined, taking care not to over-mix.
Pour batter into prepared bundt pan.
Bake for 45 minutes, or until cake begins to pull away from sides of pan.
Cool on a wire rack for 90 minutes. Carefully invert on to serving platter.
In a small, heavy bottomed saucepan, heat heavy cream and syrup until just bubbling.
Remove from heat, and stir in chocolate.
Continue stirring until all of the chocolate is melted, then add vanilla and stir to combine.
Allow to cool for about 30 minutes, then pour over top of cake.
Reserve extra fudge sauce for serving if desired.
Stir in an air-tight container for up to three days.