Pumpkin BTS Cake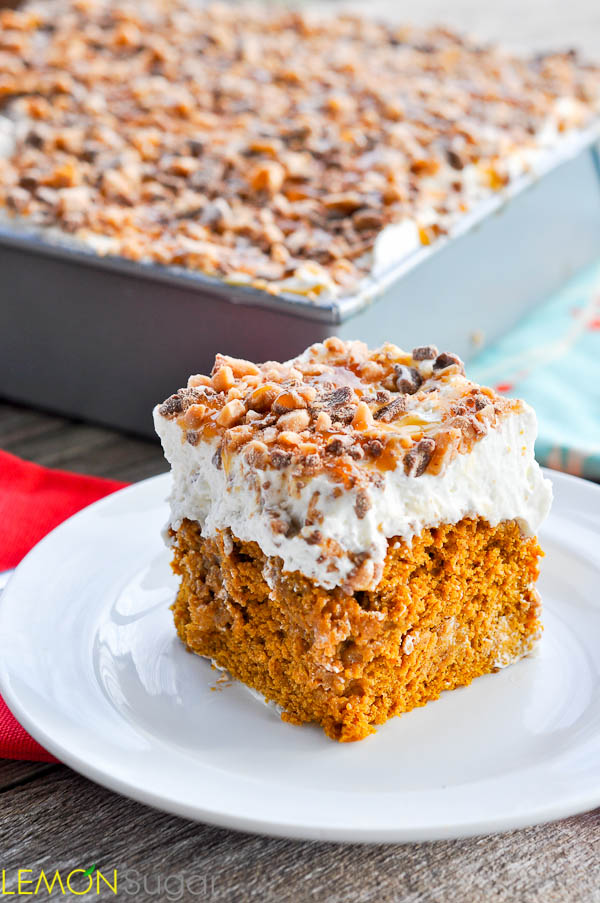 1 box Duncan Hines Spice Cake Mix
1 (15 ounce) can pumpkin puree (not pumpkin pie filling)
1 (14 ounce) can sweetened condensed milk
1 and ½ cups heavy whipping cream
¼ cup powdered sugar
2 teaspoons vanilla extract
1 cup Heath Bar or toffee candy chips
Approx ½ cup caramel sauce, homemade or storebought
Preheat oven to 350 degrees (F).
Prepare an 8x8 or 9x9 square baking dish with cooking spray. Set aside.
In a medium sized bowl, beat together spice cake mix and pumpkin puree. Mixture will be very thick. Beat until just combined. (Do not add additional ingredients called for on cake mix box. Only two ingredients requrired here.)
Spoon batter into prepared pan.
Bake for 35 minutes or until a cake tester comes out clean.
Allow cake to cool for at least 20 minutes.
Then, using the round end of a wooden spoon, poke holes all over the top of the cake, approximately 1 inch apart.
Pour the sweetened condensed milk over the top of the cake, and use a spatula to guide into poked holes.
Allow cake to cool completely.
Prepare whipped topping. In a large, clean bowl, beat whipping cream on medium high speed until soft peaks form.
Add powdered sugar and vanilla, and beat until stiff peaks form.
Spoon whipped cream over cooled cake, and spread with a spatula.
Top with toffee candy and caramel sauce.
Refrigerate until time to serve.
Enjoy!