Summer Corn & Bacon Chowder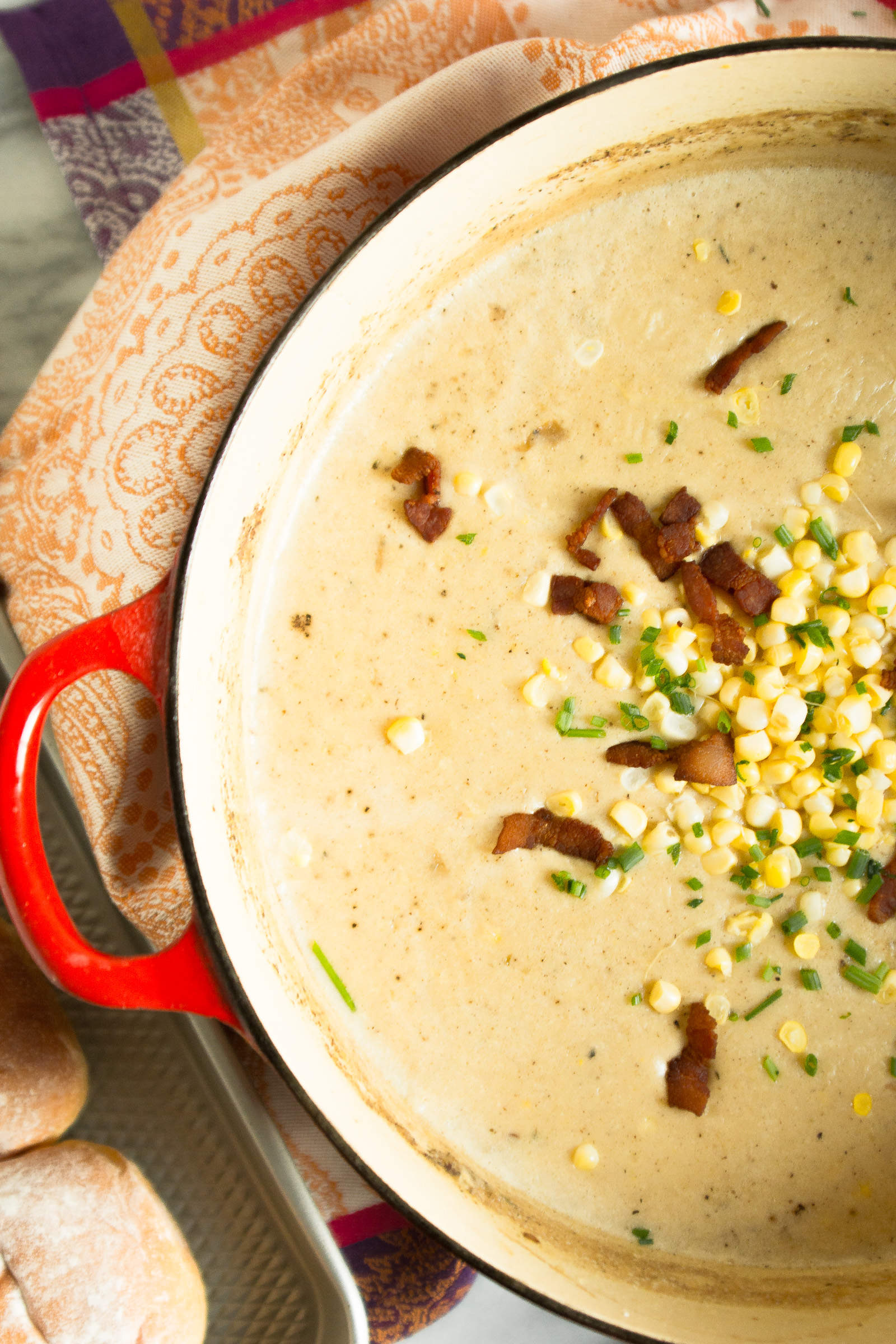 8-10 ears fresh sweet yellow corn, kernels cut from the cob
¼ cup unsalted butter
5 slices bacon, cut into ¼ to ½-inch pieces
1 medium yellow onion chopped
¼ cup all-purpose flour
1 clove garlic, finely minced
5 cups water or low-sodium chicken stock
1 lb Yukon Gold potatoes, cut into small ½-inch pieces
½ tsp dried thyme
1 bay leaf
Salt and pepper, to taste
1 cup half and half or heavy cream
1 Tbsp honey
2 - 3 Tbsp chopped fresh chives
Shredded cheddar cheese, for serving (optional)
In a large dutch oven or soup pan, melt butter over medium heat.
Add the onion and bacon to the melted butter, and saute until the bacon is browned to desired crispiness.
Use a slotted spoon or spider to remove the bacon (onion is ok to leave behind) and place the bacon on a paper-towel lined sheet, set aside.
To the butter/onion mixture, add in the flour and garlic and cook 1½ minutes.
While whisking, slowly pour in 5 cups water (or substitute low-sodium chicken stock)
Bring mixture to a boil, stirring constantly, then stir in corn kernels and potatoes.
Add the dried thyme and bay leaf and season with salt and pepper to taste.
Bring to a simmer, and cook until the potatoes are tender, about 15 minutes.
Remove bay leaft.
Transfer about 2½ cups of the chowder to a blender and blend until smooth.
Stir the blended chowder back into the large pot, and stir to combine.
Add the half and half and honey, and stir.
Sprinkle each serving with chives and cheddar cheese, plus a healthy serving of crispy bacon.
Recipe by
Lemon Sugar
at http://lemon-sugar.com/2016/06/summer-corn-bacon-chowder.html/