Basic Cheesecake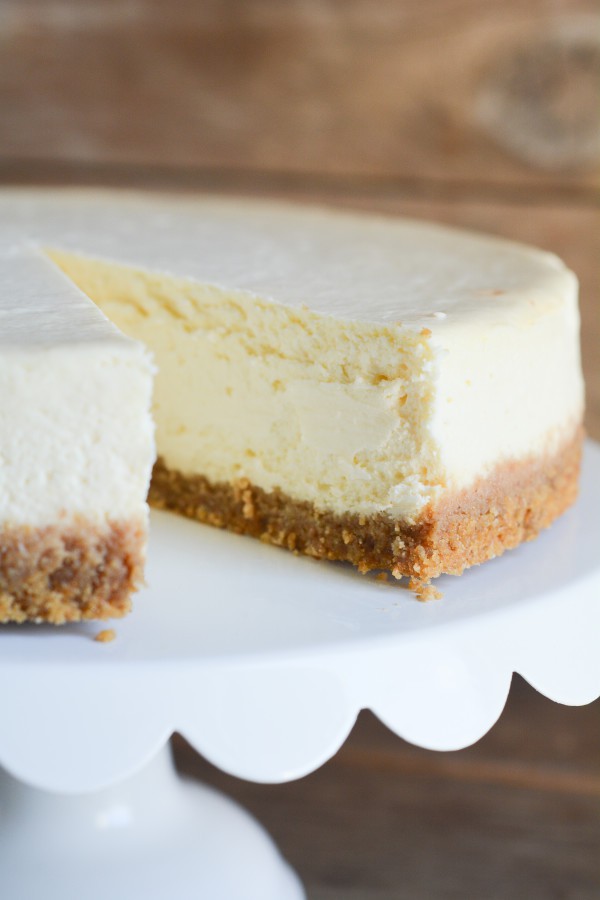 1 and ½ cups graham cracker crumbs
½ cup brown sugar
1 tsp vanilla extract
1 stick (1/2 cup) unsalted butter, melted
4 (8-ounce) packages of cream cheese, softened
¾ cup granulated sugar
2 Tablespoons corn starch
2 eggs at room temperature
½ cup sour cream at room temperature
¾ cup heavy cream
2 teaspoons vanilla extract
Preheat oven to 325 degrees (F).
Prepare a 9-inch springform pan with cooking spray or butter.
To prevent water seepage, wrap the springform pan in heavy-duty aluminum foil. I use two layers of extra-large sheets.
Place springform pan into a large roasting pan, and set aside.
In a medium-sized bowl, combine graham cracker crumbs and brown sugar.
Add vanilla and melted butter, and stir until completely moistened.
Pour mixture into the springform pan, and use the bottom of a glass to press the mixture into the bottom of the pan in an even layer - do not come up the sides with this crust. Set aside.
In the bowl of your stand mixer (or a large bowl with a handheld mixer) beat cream cheese with your paddle attachment until smooth and creamy.
Add cornstarch, and beat to combine.
Add sugar, and beat until completely incorporated.
Add eggs, one at a time, beating completely after each addition.
Add vanilla, sour cream and whipping cream, and beat until smooth, scraping down sides of bowl at least once.
Pour batter into the prepared springform pan.
Drop the filled cheesecake firmly on to your countertop several times to release any air bubbles. Return the springform pan to the roasting pan.
Place the roasting pan, with wrapped springform pan inside, into preheated oven.
Fill the roasting pan with water, until halfway up the springform pan. Work quickly, so you don't release too much heat from the oven.
Bake for 90 minutes. DO NOT open the door during baking.
Remove cake from roasting pan, and allow to cool for 30 minutes on a wire rack.
After 30 minutes, run a thin knife around the outside of the crust to release from the sides. This will help prevent cracking.
Cool for another 30 minutes on a wire rack, then lightly cover and move to the refrigerator.
Continue to cool for at least 4 hours, but ideally overnight.
Enjoy!