Samoa Sheet Cake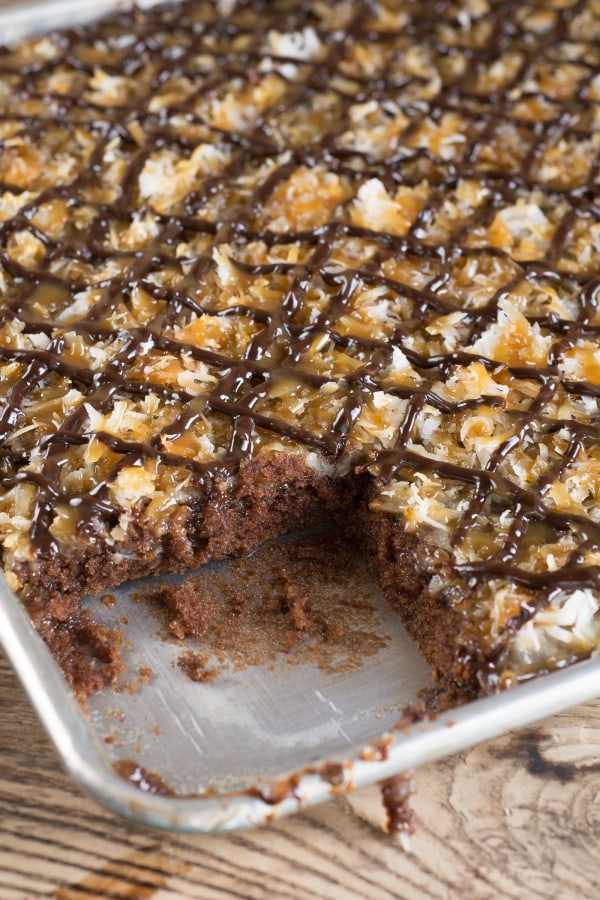 Cake:
2 cups all-purpose flour
2 cups sugar
1 stick (1/2 cup) unsalted butter
1 cup water
½ cup shortening
4 Tablespoons cocoa powder
½ cup buttermilk (no buttermilk? Fill measuring cup almost to the ½ cup line, the fill the rest of the way with vinegar to make "sweet milk" - it works like a charm!)
1 teaspoon baking soda
¼ teaspoon salt
2 eggs
2 teaspoons vanilla extract
Icing:
½ cup butter
6 Tablespoons milk
3 cups powdered sugar
1 teaspoon vanilla
⅛ cup caramel sauce, I used caramel ice cream topping in the jar
3 cups sweetened, shredded coconut, toasted
Hot fudge ice cream topping
Caramel sauce ice cream topping
Preheat oven to 400 degrees (F).
Grease a half sheet pan (approx 18x13) and set aside.
In a medium, heavy-bottomed saucepan over medium heat, melt butter and shortening together.
Once mostly melted, add water and cocoa powder. Use a wire whisk to stir until smooth. Remove from heat.
In a large bowl, combine flour and sugar.
Pour warm chocolate mixture over the flour mixture, and beat on low speed until just combined.
Add buttermilk, eggs, vanilla and baking soda, and beat until completely combined and smooth.
Pour into greased sheet pan, and bake for 18-20 minutes.
Immediately poke holes in the top of the cake and allow to cool slightly while you prepare frosting.
Toast coconut in a dry skillet over medium heat until golden brown, stirring constantly. Set aside.
In a medium microwave safe bowl, combine butter and milk and bring to a boil.
Add ⅛ cup caramel sauce and powdered sugar and vanilla and stir until smooth.
Pour frosting evenly over top of cake.
Immediately sprinkle with top of warm frosting with toasted coconut.
Drizzle generously with chocolate and caramel topping.
Enjoy!