Fried Ice Cream Boats & A Football Party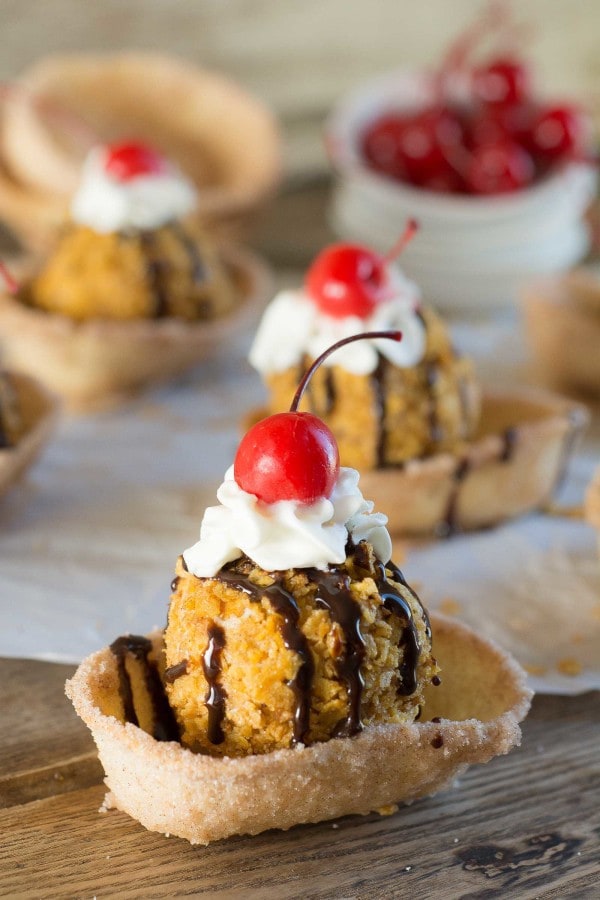 1 package Old El Paso Mini Soft Tortilla Taco Boats
¾ cup granulated sugar
1 teaspoon ground cinnamon
6 Tablespoons unsalted butter, melted
12 scoops of vanilla ice cream, rolled into balls slightly bigger than a golf ball
5 cups corn flakes
8 Tablepoons unsalted butter
remaining cinnamon sugar mixture from shell coating
Whipped cream
Maraschino cherries
Chocolate Syrup
Preheat oven to 350 degrees, (F).
Prepare a large baking sheet with parchment paper or foil. Set aside.
In the microwave, melt 6 Tablespoons of butter in a glass measuring cup.
In a medium bowl, combine sugar and cinnamon.
Using a pastry brush, coat a taco boat completely with butter. Be generous.
Immediately cover the melted butter with a generous coating of cinnamon sugar. Make sure to cover all sides, top and bottoms.
Place coated boat on baking sheet, and repeat with 11 remaining boats.
Bake for 15 minutes or until just turning golden brown. Don't let them get too dark, they'll burn quickly - but if you don't bake them long enough they won't get crispy.
Allow boats to cool completely. Meanwhile, prepare ice cream.
Prepare a small baking sheet by covering with plastic wrap. This pan needs to be able to fit in your freezer.
Scoop 12 balls of ice cream on to the sheet. They should be slightly bigger than golf balls and as round as you can get them with your scoop.
Place balls back into freezer for at least 15 minutes to re-harden.
Meanwhile, prepare coating.
Pulse 5 cups of corn flakes in a food processor, or crush them with a rolling pin. You want a coarse crust, not crumbs.
In a large (10-inch) saute pan, melt butter over medium heat.
Add crushed cornflakes and stir constantly until golden brown (about 5 minutes.)
Remove from heat and spread on to a cookie sheet to cool.
Sprinkle the cooling cornflake mixture with the remaining cinnamon and sugar from dipping your boats (should be a couple of Tablespoons.)
Allow coating to cool completely.
Remove ice cream balls from the freezer and roll them, one at a time into the crumb mixture. Use your hands to help form them into round balls.
Return them to the pan and put the coated balls back into the freezer for 15 minutes.
When ready to serve, place a coated ball into a cinnamon sugar boat.
Top with chocolate syrup, whipped cream and a cherry.
Enjoy!
Recipe by
Lemon Sugar
at http://lemon-sugar.com/2016/01/fried-ice-cream-boats-football-party.html/