Chocolate Dipped Cannoli Cups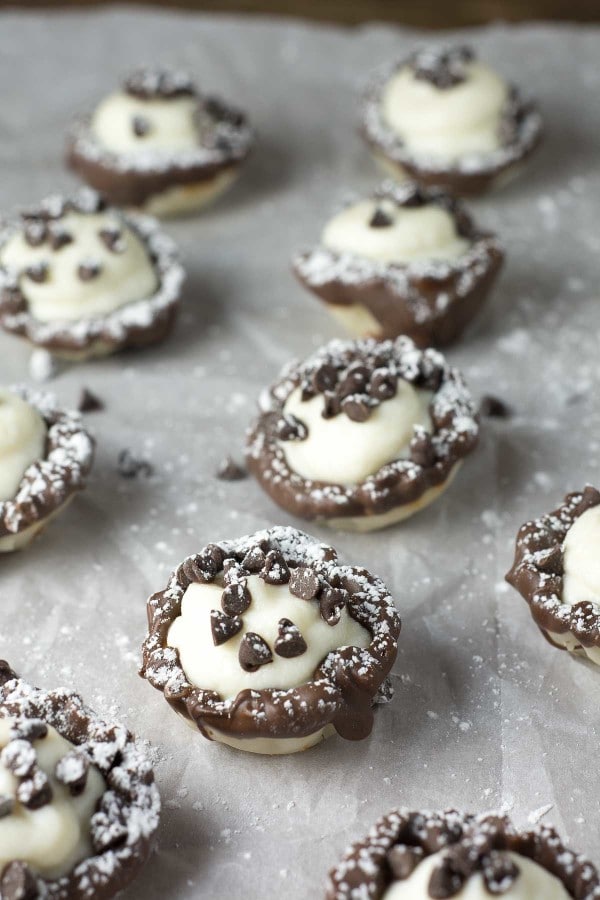 2 boxes Athens Mini Fillo Shells (30 shells)
16 ounces whole-milk Ricotta Cheese
¾ cup confectioners sugar
½ teaspoon vanilla extract
4 squares Chocolate Almond Bark
½ cup mini chocolate chips
¼ cup confectioners sugar (for dusting)
Preheat oven to 350 degrees (F.)
In a medium bowl, combine Ricotta Cheese, ¾ cup confectioners sugar and vanilla.
Spoon mixture into a piping bag (or a plastic zipper bag) and refrigerate until ready to use. Don't snip the end off of the piping bag until you are ready to use it.
Place Athens Mini Fillo Shells onto a baking sheet, and bake for 5 minutes or until completely heated through.
Place Almond Bark into a microwave-safe bowl, and melt according to directions on package. Stir until smooth.
Dip the top of each shell into the melted chocolate. Use a fork to help lift each one out of the chocolate and place on parchment or a wire cooling tray until chocolate hardens.
Transfer dipped, hardened shells back to a baking sheet.
Remove the filling from the refrigerator and snip a small end off the bag.
Fill each shell with the ricotta mixture.
Sprinkle with mini chocolate chips and confectioners sugar. You can use a small mesh strainer to help dust the shells with sugar for an even, pretty look.
Refrigerate until ready to serve.
Enjoy!
Recipe by
Lemon Sugar
at http://lemon-sugar.com/2015/12/chocolate-dipped-cannoli-cups.html/