Lemon Ricotta Pancake Stacks with Raspberry Syrup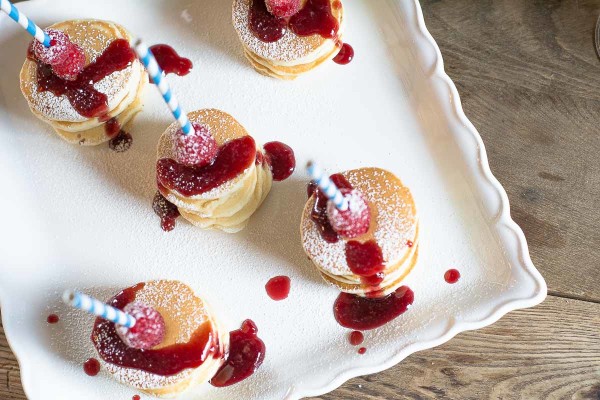 3 large eggs, separated
1 and ½ cups buttermilk
3 tablespoons sugar
1 cup ricotta cheese
1 and ½ cups unbleached all-purpose flour
1 teaspoon baking soda
1 teaspoon baking powder
2 tablespoons lemon zest (the zest from 2 large lemons)
½ teaspoon salt
1 small jar rapsberry jam, seedless
1 pint fresh raspberries
3 Tablespoons confectioners sugar, for garnish
Heat a griddle pan or large frying pan over medium heat.
In a medium mixing bowl, beat togehter the egg yolks, buttermilk, sugar and ricotta cheese.
In another bowl, whisk together the flour, baking soda, baking powder, lemon zest, and salt.
In a third bowl, using a handheld mixer, beat the egg whites until they are stiff but not dry.
Mix the dry ingredients into the buttermilk mixture - do not over mix. A few lumps remaining are ok. Gently fold in the egg whites.
Lightly and carefully grease the hot pan with a very thin layer of canola oil.
Spoon the batter into ⅕ inch discs, onto the heated pan. Cook for about 40 seconds on the first side, until bubbles rise and burst on the first side. Flip the pancakes and cook for about 30 seconds on the second side.
Repeat with remaining batter.
Stack pancakes into stacks of five.
Spear with a kabob stick or decorative straw, and top with two fresh raspberries.
On the stovetop, heat the raspberry jam over low heat until liquified.
Spoon jam over pancake stacks, and sprinkle with powdered sugar.
Enjoy!
Recipe by
Lemon Sugar
at http://lemon-sugar.com/2016/01/champagne-brunch-korbel.html/