Loaded Baked Potato Quiche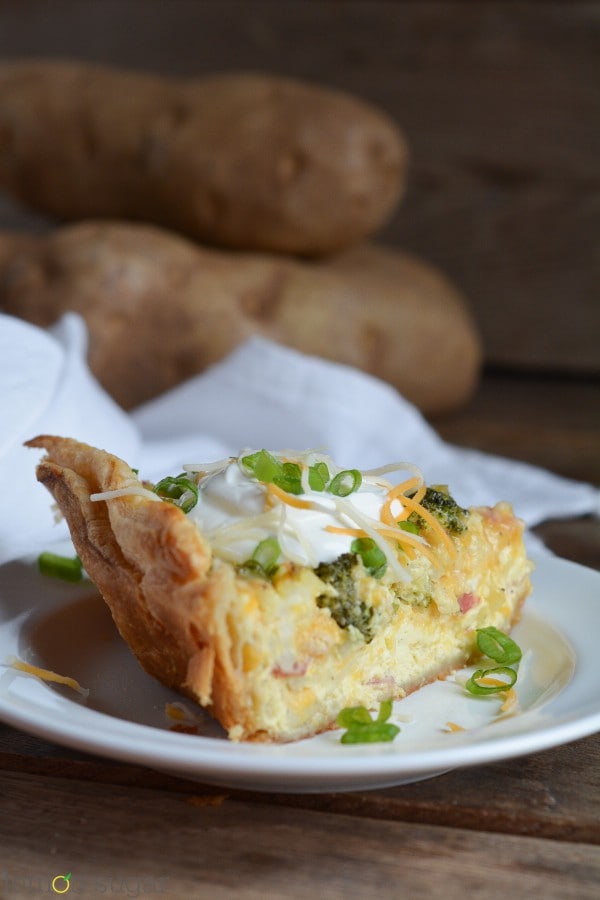 1 puff pastry sheet for crust
½ cup crumbled cooked bacon (about 6 to 8 slices)
1 and ½ cups fresh broccoli florets, lightly steamed but still firm
10 ounces monterrey jack cheese, shredded
1 and ½ cups shredded potatoes, freshly shredded in food processor
3 green onions, chopped, plus more for garnish if you like
5 large eggs
1 cup half and half
1 tsp ground black pepper
Garnish with sour cream
Preheat oven to 350 degrees (F).
Peel potatos and shred, using a hand grater or a food processor. (Will need 1-2 potatoes, depending on size.
Spray a 9-inch pie plate with cooking spray or rub with butter.
Roll puff pastry sheet so it is slightly bigger than your pie plate. Press into plate and crimp edges, and set aside.
In a large bowl, beat eggs lightly. Dip a pastry brush into the beaten eggs, and brush the crust of the puff pastry with the egg.
Add half and half, salt and pepper. Whisk to combine.
To the egg mixture, add grated potatoes, bacon, green onions, broccoli and cheese. Stir to combine.
Pour mixture into pie crust, and smooth into an even layer.
Place into oven, and lay a sheet of aluminum foil lightly over the quiche to prevent over browning.
Bake for 1 hour or until the middle is just set.
Let cool slightly, and garnish with sour cream and green onion, if desired.
Store in the refrigerator for 3-4 days. May be served warm or cold, depending on preference.
Enjoy!
Recipe by
Lemon Sugar
at http://lemon-sugar.com/2015/12/loaded-baked-potato-quiche.html/