Mini Pumpkin Loaves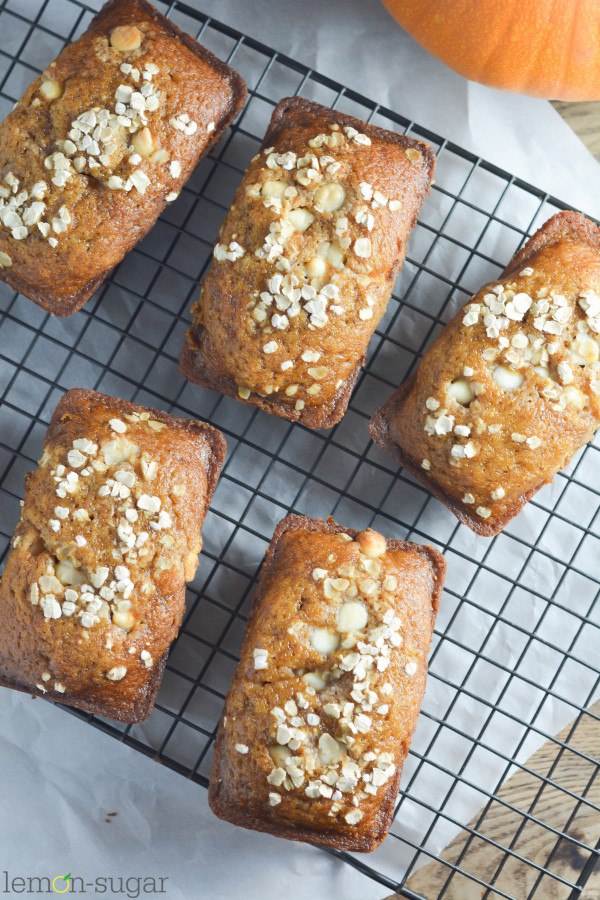 1 and ½ cups sugar
1 and ⅔ cups flour
¼ teaspoon baking powder
1 teaspoon baking soda
¾ teaspoon salt
1 teaspoon cinnamon
1 teaspoon cloves
1 teaspoon nutmeg
2 eggs
½ cup vegetable oil
½ cup water
1 cup pumpkin
¾ cup white chocolate chips, coated with flour.
2 teaspoons flour
2 Tablespoons rolled oats
Preheat oven to 350 degrees (F).
Spray an 8-tin mini loaf pan with cooking spray. Set aside.
In a large bowl, combine dry ingredients. (Sugar, flour, baking powder, baking soda, salt, cinnamon,cloves and nutmeg.
Whisk to combine.
In a small bowl, sprinkle 2 teaspoons of flour over the white chocolate chips. Toss the chips to completely coat them with flour.
In a smaller bowl, whisk together eggs, oil, water and pumpkin.
Add wet ingredients to dry ingredients. Stir until just combined.
Add white chocolate chips. Fold into batter.
Divide batter evenly between loaf wells.
Sprinkle the top of each loaf with rolled oats.
Bake for 50-60 minutes or until a cake-tester comes out clean.