Sugar Cream Pie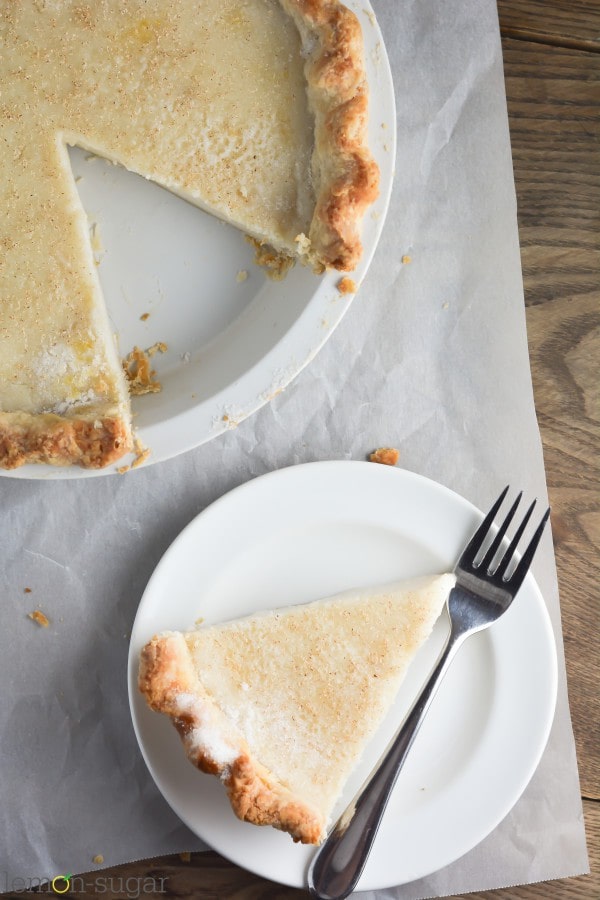 1 and ¼ cups all-purpose flour
1 Tablespoon sugar
¼ teaspoon salt
8 Tablespoons (1 stick) unsalted butter, very cold
5-6 Tablespoons ice water
1 and ¼ cups sugar
1⁄2 cup plus 2 Tablespoons all-purpose flour
1 and ¼ cups half-and-half
1 and ¼ cups heavy cream
1 and ½ teaspoons vanilla extract
About 1 Tablespoon sugar, to garnish
Freshly grated nutmeg, to garnish
Preheat oven to 375 degrees (F).
In a large bowl, whisk together flour, sugar and salt.
Quickly cut butter into small cubes, and add to flour mixture. Work quickly so the butter stays very cold.
Using a fork or a pastry cutter, cut in butter to small pea size.
Add water a tablespoon at a time just until dough pulls together.
Remove the ball of dough from the bowl, and flatten it into a disc.
Lightly flour surface.
Flatten disk with 6-8 taps of the rolling pin.
Roll dough, and after every roll, lift dough give ¼ turn.
Roll into a 12 inch circle.
Once rolled, use the rolling pin to roll up the dough and transfer it to a pie plate.
Unroll the dough, trim the edges and crimp as desired.
Line the dough with a sheet of parchment paper and fill the pie dish with pie weights or dried beans.
Bake until the crust begins to just turn brown at the edge, about 15 minutes.
Transfer the pie dish to a cooling rack, and remove the paper and weights.
Prepare filling.
In a medium bowl, whisk the sugar with the flour, and then stir in the half-and-half, cream, and vanilla.
Pour the cream into the pie crust, and sprinkle the top of the cream with sugar.
Bake until the filling is lightly set but jiggles when tapped on the side, 1 hour and 30 minutes. (Oven will remain at 375 degrees (F).
Use foil or a pie-crust shield to prevent over-browning of the crust. I just tent my pie with foil the entire time it's in the oven.
Transfer the pie to a rack and let cool completely. Grate nutmeg over the top just before serving.