Jalapeno Popper Fillo Bites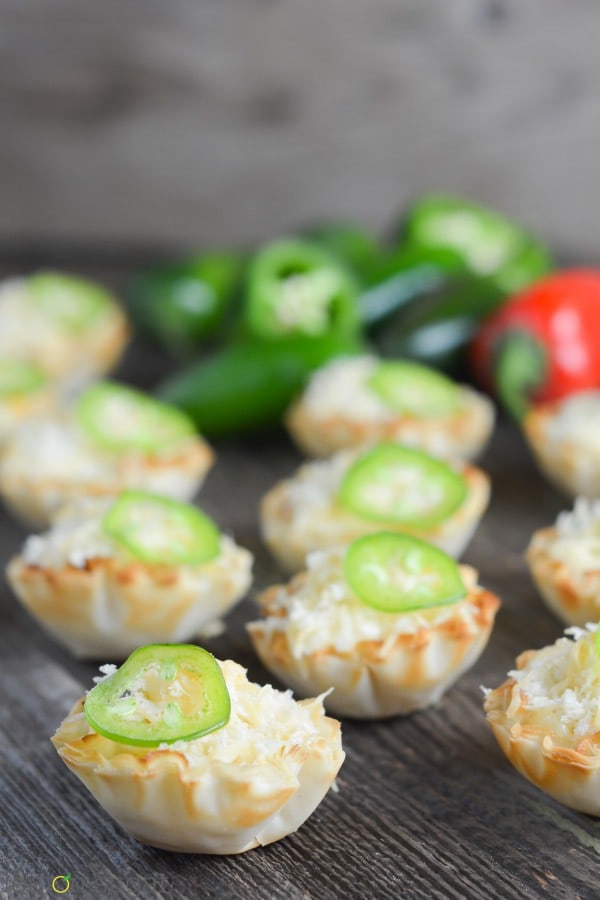 2 boxes Athens Mini Fillo Shells (30 shells)
1 (8 ounce) package cream cheese, room temperature
½ cup mayonnaise
½ cup cheddar cheese, shredded
½ cup parmigiano reggiano (parmesan), grated
1 (4 ounce) can sliced jalapenos (pickled), drained
2 jalapeno peppers, finely sliced with mandolin (garnish)
¼ cup panko bread crumbs
¼ cup parmigiano reggiano (parmesan), grated
Preheat oven to 350 degrees (F).
Remove Athens Mini Fillo Shells from packaging, and transfer to a large baking sheet. Set aside.
With an electric mixer, beat together the cream cheese, mayonnaise, cheddar cheese, parmigiano reggiano and jalapenos in a large bowl.
Spoon about a Tablespoon of the mixture into each Fillo Shell. Don't over fill.
Mix the panko bread crumbs and parmigiano reggiano and sprinkle over the top of each shell.
Bake for about 15 minutes, or until filling begins to bubble and cheese topping turns a light golden brown.
Meanwhile, thinly slice two raw jalapenos for garnish. (I used my handheld mandolin.)
Remove shells from the oven and immediately garnish with a thinly sliced jalapeno.
Cool slightly and enjoy!
Recipe by
Lemon Sugar
at http://lemon-sugar.com/2015/09/jalapeno-popper-fillo-bites.html/