Apple Frangipane Tart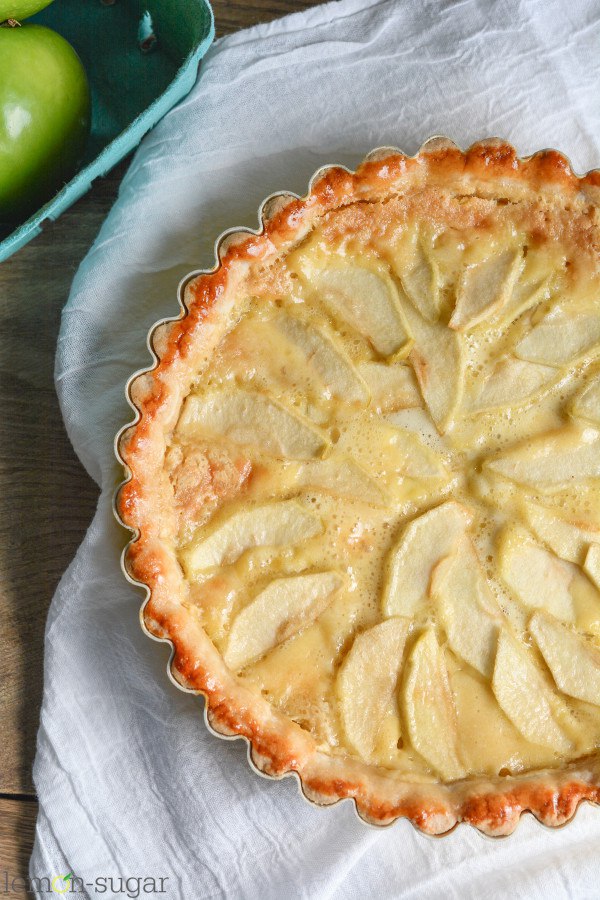 2 sticks (1 cup) unsalted butter room temperature
3 cups all-purpose flour
⅔ cup confectioners' sugar
½ teaspoon kosher salt
5 ounces almond paste, broken into pieces
⅓ cup sugar
2 eggs, divided
½ cup (1 stick) cold butter, cut into small pieces
Zest of 1 lemon
1 teaspoon vanilla extract
2 Tablespoons flour
¼ teaspoon baking powder
3 ripe apples (like Granny Smith) peeled, cored and sliced thin
Prepare a tart pan (with removable bottom) with cooking spray or butter. Set aside.
Combine the butter, flour, confectioners' sugar and salt in a food processor and process until the mixture comes together in a solid mass (this may take a few minutes).
Drop pieces of the dough in to the prepared tart pan.
Use your fingers to press the dough evenly along the bottom and up the sides of the pan, filling any gaps. Set aside.
Put almond paste, sugar and 1 of the eggs into the food processor and purée until smooth.
Add butter, zest and vanilla and continue mixing until well combined.
Mix in flour and baking powder then add remaining egg and continue mixing until smooth and well incorporated.
Transfer frangipane to tart shell, cover and chill for at least 30 minutes.
Meanwhile, preheat oven to 350 degrees (F).
Peel and slice apples.
After the tart and filling have chilled for 30 minutes, add the apples.
Starting in the middle, arrange apples in a spiral pattern on top, pressing them down lightly and leaving some room between slices for frangipane to puff up.
Place tart pan on a baking sheet and bake until pastry is golden brown and frangipane is set in the center and golden, about 45 minutes.
Remove from oven, set aside to let cool for 15 minutes then carefully remove outer ring of pan and transfer tart to a serving plate.
Serve warm or at room temperature.