Peach Streusel Slab Pie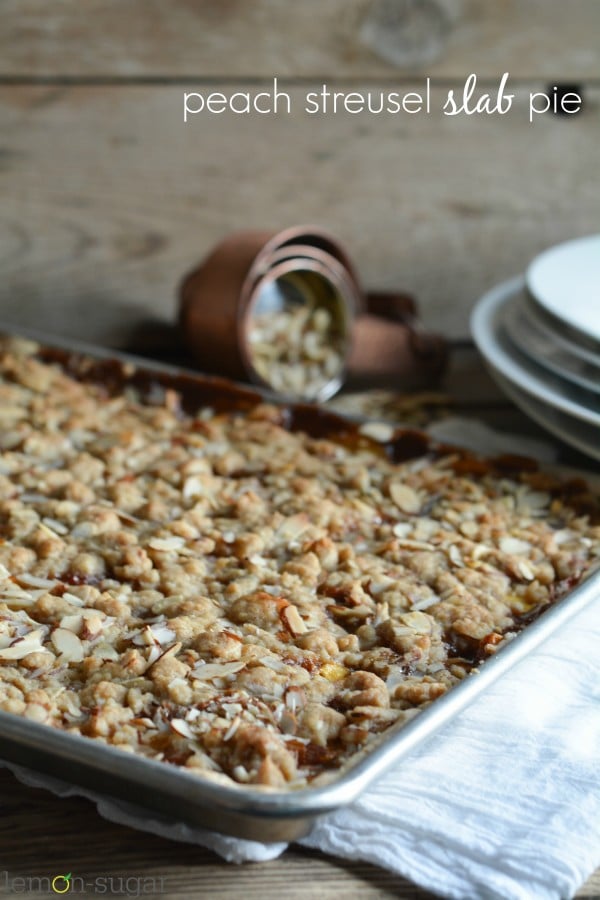 2 sticks (1 cup) unsalted butter room temperature
3 cups all-purpose flour
⅔ cup confectioners' sugar
½ teaspoon kosher salt
3 pounds peaches (about 6 peaches), cut into ½-inch wedges
1½ cups firmly packed light brown sugar
Juice of 1 lemon
3 tablespoons cornstarch
2 teaspoons pure vanilla extract
1 teaspoon ground cinnamon
½ teaspoon kosher salt
¼ teaspoon nutmeg
¾ cup all-purpose flour
½ cup sliced skin-on almonds
½ cup firmly packed light brown sugar
6 tablespoons unsalted butter, melted
¼ teaspoon kosher salt
Preheat oven to 350 degrees (F).
Prepare a 10x15 rimmed baking sheet with cooking spray or butter. Set aside.
Combine the butter, flour, confectioners' sugar and salt in a food processor and process until the mixture comes together in a solid mass (this may take a few minutes).
Drop pieces of the dough all over the prepared baking sheet.
Use your fingers to press the dough evenly along the bottom and about ½ inch up the sides of the pan, filling any gaps. Set aside.
Peel and slice peaches.
Toss together the peaches, brown sugar, lemon juice, cornstarch, vanilla, cinnamon, salt and nutmeg in a large bowl until the cornstarch dissolves.
Transfer the filling onto the crust and spread in an even layer. Bake for 30 minutes.
While the pie bakes, make the streusel topping by combining the flour, almonds, brown sugar, melted butter and salt in a small bowl until evenly moistened.
Remove the pie from the oven and sprinkle the streusel evenly over the filling.
Return the pie to the oven and bake until the topping is golden brown and the filling is bubbly, 25 to 30 minutes more.
(If the crust browns too quickly during baking, cover the pie loosely with foil.)
Let the pie cool. Serve warm or at room temperature.