Black Forest Pound Cake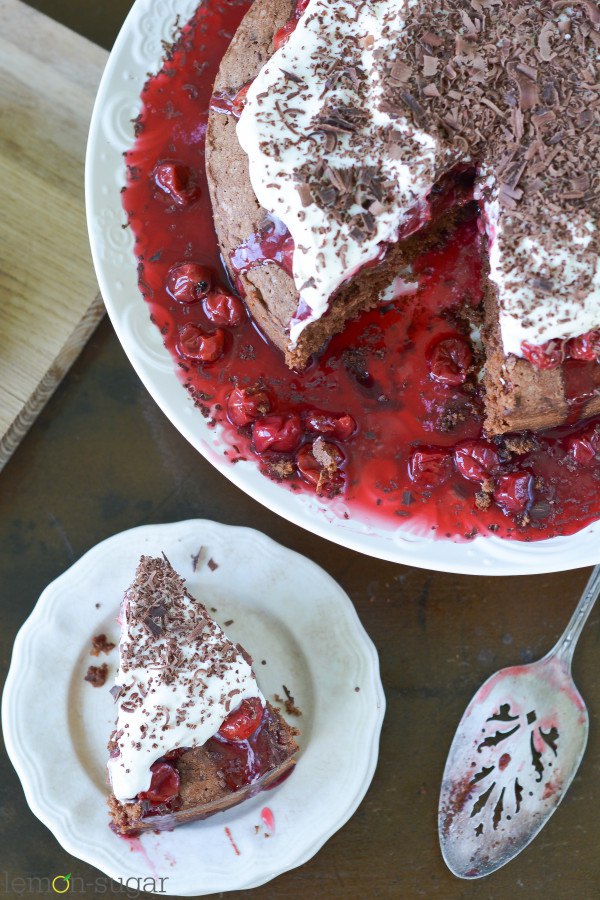 ⅔ cup unsalted butter, softened
1 and ⅓ cups sugar
⅔ cup packed brown sugar
4 large eggs at room temperature
1 teaspoon vanilla extract
1 and ½ cups cake flour
½ cup unsweetened cocoa powder
½ teaspoon salt
¼ teaspoon baking soda
¾ cup sour cream
3 ounces semisweet chocolate, finely chopped
2 12-ounce packages frozen cherries
⅓ cup sugar
⅓ cup cold water
3 teaspoons corn starch
2 teaspoons amaretto or brandy
½ teaspoon vanilla extract
pinch of salt
1 and ¼ cup heavy cream
3 Tablespoons powdered sugar
½ teaspoon vanilla extract
In a medium saucepan, stir together frozen cherries, water, sugar and cornstarch.
Cook over medium-low heat for 12-15 minutes, stirring often.
Remove from heat, and add amaretto (or brandy), vanilla, and salt. Stir to combine.
Allow to cool completely before topping cake (about 1 hour.)
Preheat oven to 325 degrees (F).
Prepare a 10-inch pan with 3-inch sides by buttering and coating with flour.
In the bowl of a stand mixer using the paddle attachment, beat butter until smooth and creamy.
Gradually add both sugars, beating until light and fluffy. (This will take about 5 minutes.)
Add eggs one at a time, beating until just combined after each addition.
Add vanilla.
In another bowl, whisk together flour, cocoa, salt and baking soda.
Add to butter mixture in three additions, alternating with two additions of sour cream. (Flour, sour cream, flour, sour cream, flour...) Beat on low speed until just incorporated after each addition.
Stir in chopped chocolate.
Pour into prepared pan, and bake for 50-70 minutes, or until a cake-tester comes out clean.
Cool in pan for 15 minutes, then remove from pan and cool completely before topping.
In a clean, cold bowl, beat cream until soft peaks form (about 5 minutes.)
Add sugar and vanilla, and beat until stiff peaks form.
Place cake on serving plate.
Top with cherry sauce, and dollop whipped cream on top of cherries,
Sprinkle with shaved chocolate.
Enjoy!