Chocolate Peanut Butter Swirl Bundt Cake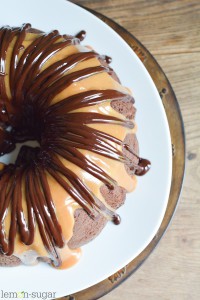 1 cup sugar
¼ cup vegetable oil
1 egg, room temperature
1 teaspoon vanilla extract
½ cup milk at room temperature
¾ cup + 2 Tablespoons all-purpose flour
½ cup + 2 Tablespoons dark cocoa powder
¾ teaspoon baking powder
½ teaspoon baking soda
½ teaspoon salt
½ cup boiling water
¼ cup unsalted butter, room temperature
¾ cup creamy peanut butter
1 cup sugar
1 egg, room temperature
1 and ⅓ cups self rising flour
1 cup buttermilk room temperature
8 ounces peanut butter chips
½ cup heavy cream
3 ounces semi-sweet chocolate chips
2 Tablespoons heavy cream
Preheat oven to 350 degrees (F).
Butter a 9-inch bundt pan, and coat with flour. Tap out excess flour. Make sure all crevices are completely covered with butter and flour. Set aside.
In a medium bowl, combine flour, cocoa powder, baking powder, baking soda, and salt. Whisk to combine and set aside.
In a large bowl, beat together sugar and oil until well combined and fluffy.
Add egg, vanilla, and milk and beat until combined.
Slowly add flour mixture to sugar mixture and beat on medium speed to combine.
Carefully stir in boiling water, beat on low until well combined, and set aside while you prepare the peanut butter batter.
In a large bowl beat together butter, peanut butter and sugar until light and fluffy.
Add egg, and beat until just combined.
Carefully add in ⅓ of the flour, followed by ½ of the buttermilk. Mix until just combined.
Add half of the remaining flour and the remaining buttermilk. Mix until just combined.
Add the remaining flour, and beat until just combined. Set aside.
Pour a thin layer of chocolate batter into the prepared pan.
Add large spoonfuls (about 2 Tablespoons each) over the chocolate layer.
Pour another layer of chocolate over the peanut butter layer.
Repeat process until you've used all of the batter. Your final layer should be chocolate.
Bake for 50-60 minutes or until a toothpick comes out cleanly.
Allow to cool for 5 minutes, then invert onto a serving platter. Cool completely before frosting.
Place peanut butter chips into a small bowl. Set aside.
In a small bowl, heat the cream until steaming hot but not boiling.
Pour hot cream over peanut butter chips and allow to sit for 30 seconds.
Stir until chips are melted and completely smooth and combined.
Pour over cooled cake.
Place chocolate chips into a small bowl. Set aside.
In a small bowl, heat the cream until steaming hot but not boiling.
Pour hot cream over chocolate chips and allow to sit for 30 seconds.
Stir until chips are melted and completely smooth and combined.
Pour over cooled cake. (I put mine into a plastic bag and cut the tip off to help drizzle the ganache.)
Recipe by
Lemon Sugar
at http://lemon-sugar.com/2015/08/chocolate-peanut-butter-swirl-bundt-cake.html/