Mini Apple Crumb Sundaes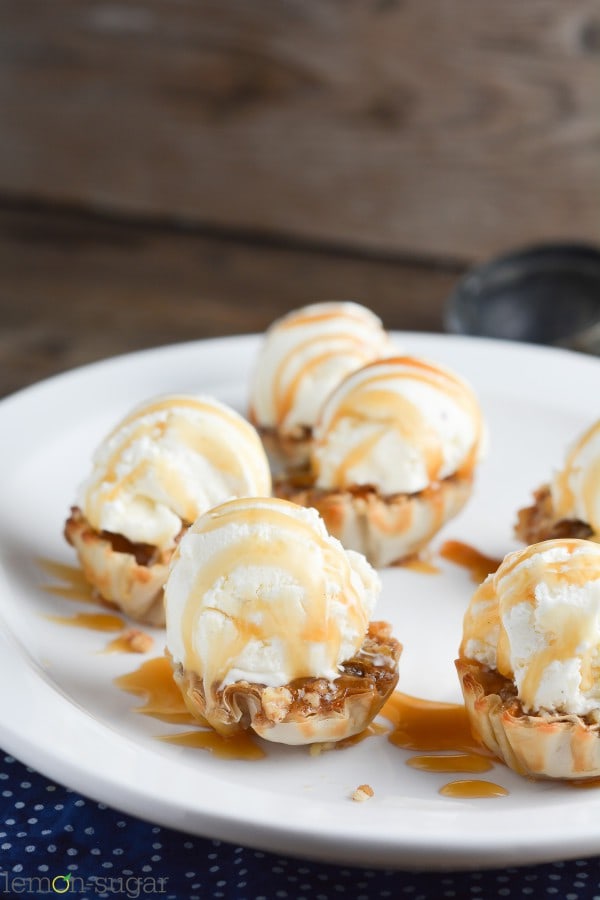 2 boxes Athens Mini Fillo Shells (30 shells)
1 cup apple pie filling
½ teaspoon cinnamon
½ cup unsalted butter, cold
¼ cup rolled oats
⅔ cup brown sugar
1 pinch salt
½ cup chopped walnuts
Vanilla ice cream
Caramel Sauce
Preheat oven to 350 degrees (F).
Place Fillo Shells onto a baking sheet. Set aside.
Chop apples in apple pie filling into small pieces.
Add cinnamon, and stir to combine.
Spoon about a teaspoon of filling into each Fillo Shell. Set aside.
In a small bowl, use a pastry cutter to combine oats, brown sugar, cold butter and salt until coarsely crumbled.
Spoon another teaspoon of topping over the apple pie filling for each shell.
Finely chop the walnuts, and sprinkle chopped nuts over the shells.
Bake for 15-20 minutes or until the filling is bubbling.
Remove from oven, and allow to cool slightly.
Top with a small scoop of vanilla ice cream and a drizzle of caramel sauce.
Enjoy!