Dark Chocolate Dipped Energy Bites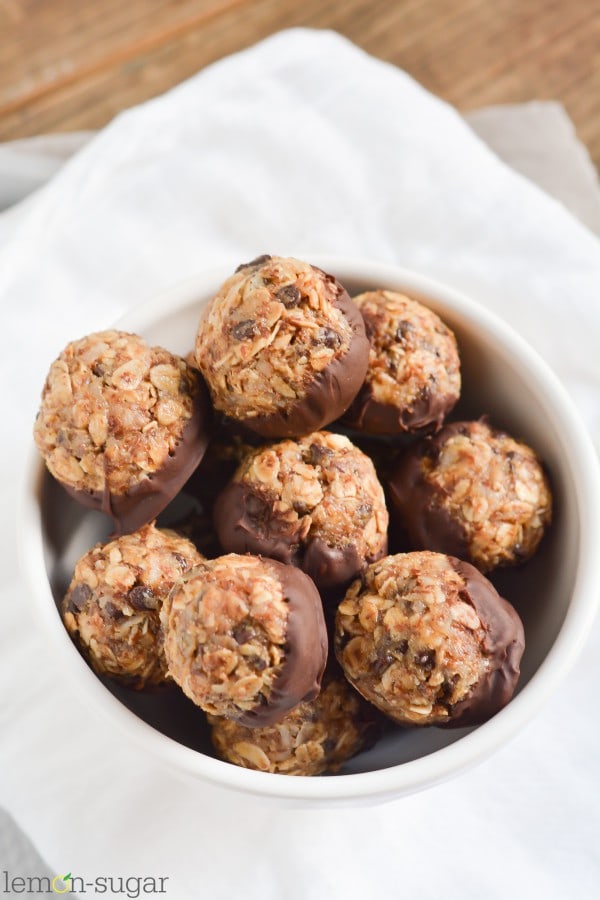 1 cup old-fashioned rolled oats, organic if possible
½ cup ground flax seed
½ cup dark chocolate chips
⅔ cup coconut flakes
½ cup natural peanut butter, unsweetened
⅓ cup raw blue agave syrup (or sub raw honey)
1 teaspoon vanilla extract
4 ounces dark chocolate (for dipping)
In a large bowl, combine oats, flax seed, coconut and chocolate chips, and stir to combine.
Add peanut butter, agave syrup and vanilla extract.
Use a sturdy spoon to stir and completely combine the mixture.
Refrigerate for 30-60 minutes.
Using a small cookie scoop, scoop 1-inch balls of the mixture and roll with your hands into a round ball. Place the balls on a small cookie sheet lined with wax paper.
Return to refrigerator for 15 minutes.
Add the 4 ounces of dark chocolate to a small bowl.
Microwave in 15 second bursts until melted, and stir until smooth. Don't overheat the chocolate, it will burn and be ruined!
Once the chocolate is smooth, dip each ball halfway into the chocolate, and return to wax paper.
Refrigerate for an additional 15 minutes to harden chocolate.
Store in an airtight container in the refrigerator for up to a week.
Enjoy!
Recipe by
Lemon Sugar
at http://lemon-sugar.com/2015/07/dark-chocolate-dipped-energy-bites.html/