Chocolate Chip Graham Cracker Bars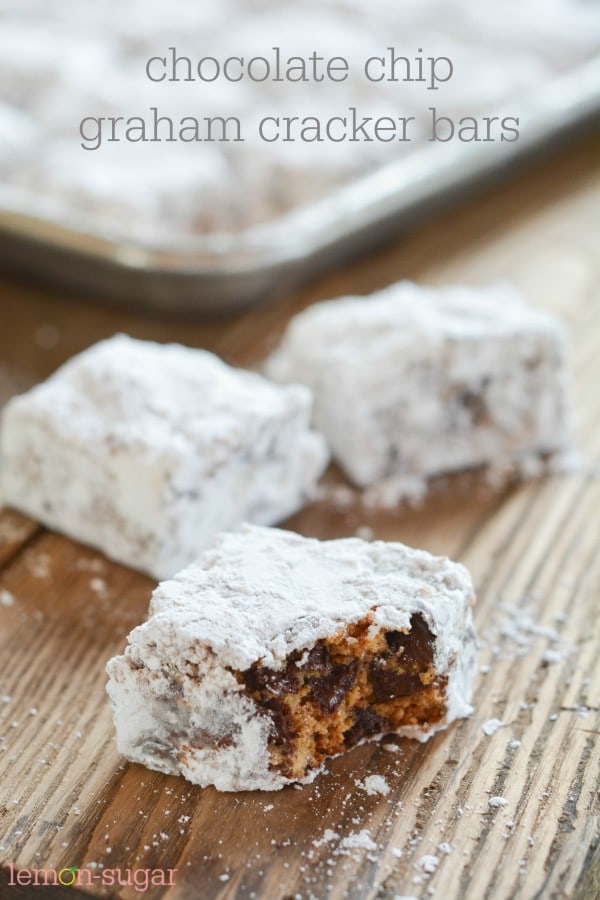 2 cups graham cracker crumbs (buy them pre-crushed, or pulse 3 sleeves (1 box) of crackers in your food processor.)
1 bag (11 or 12 ounces) semi-sweet chocolate chips
1 cup chopped walnuts or pecans
2 cans (14 oz each) sweetened condensed milk
2 teaspoons vanilla extract
½ teaspoon kosher salt
2-3 cups powdered sugar, for dusting
Preheat oven to 350 degrees (F).
Prepare a 9x13 pan by coating it with aluminum foil and cooking spray. Leave the foil draped over the sides to help remove the bars from the pan.
Combine graham cracker crumbs, chocolate chips, nuts, sweetened condensed milk, vanilla and salt in a large bowl.
Use a heavy, sturdy spoon to completely combine. Don/t forget the dry crumbs at the bottom of the bowl.
Pour the mixture into the baking pan.
Spray your fingers with cooking spray, and use your hands to press the batter into an even layer.
Bake for 25-30 minutes or until set.
Allow to cool completely in the pan.
Use the flaps of the foil to remove the cooled bars from the pan.
Cut into squares.
Pour powdered sugar into a large bowl.
Toss each cookie into the sugar and toss to coat completely.
Store in an airtight container for up to three days.
Enjoy!
Recipe by
Lemon Sugar
at http://lemon-sugar.com/2015/07/chocolate-chip-graham-cracker-bars.html/