Chicken Shashlik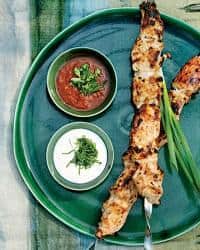 2 large plum tomatoes, coarsely grated on a box grater
2 garlic cloves, minced
½ cup pure olive oil
½ cup chopped cilantro
4 pounds skinless, boneless chicken breasts, cut into 2-inch pieces
Vegetable oil, for brushing
Salt and freshly ground pepper
In a large bowl, combine the grated tomatoes, garlic, olive oil and cilantro.
Add the chicken and coat thoroughly with the marinade.
Cover and refrigerate overnight.
Light a grill.
Thread the chicken onto 8 metal skewers, leaving a small space between each piece.
Brush the chicken with vegetable oil and season with salt and pepper.
Grill over moderate heat, turning occasionally, until lightly charred and just cooked through, about 15 minutes.