Cream Cheese and Pepper Jelly Phyllo Cups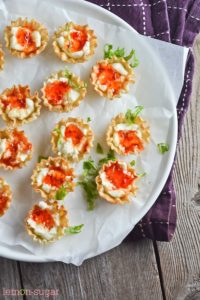 2 boxes Athens Mini Fillo Shells (30 shells)
8 ounces cream cheese
1 small jar red pepper jelly
Put cream cheese in freezer for 30-60 minutes for easy cutting. (Not required, but helpful.)
Preheat oven to 350 degrees (F).
Line a large baking sheet with parchment paper.
Place fillo cups on baking sheet.
Use a knife to cut the bar of cream cheese into 30 cubes. I did this by cutting the bar into 4 large pieces, and then cut each smaller piece into 8 cubes.
Place a cube of cream cheese into each cup.
Bake for 8 minutes.
Remove from oven, and use a spoon to carefully flatten and spread the cream cheese inside each cup.
Top with a small spoonful of jelly, and then bake for another 2-4 minutes.
Remove from oven and allow to cool for a couple of minutes.
Enjoy!
Recipe by
Lemon Sugar
at http://lemon-sugar.com/2015/06/cream-cheese-pepper-jelly-fillo-shells.html/