Lemon Tart with Blackberry Syrup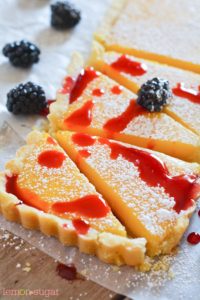 1 large egg yolk
1 Tablespoon heavy cream
½ teaspoon vanilla extract
1 and ¼ cups all-purpose flour
⅔ cup confectioners (powdered) sugar
¼ teaspoon salt
8 Tablespoons (1 stick) unsalted butter, cut into ¼" pieces and chilled
2 large eggs plus 7 large yolks
1 cup granulated sugar
¼ cup grated lemon zest
⅔ cup fresh squeezed lemon juice (will need about 4 lemons)
pinch of salt
4 Tablespoons unsalted butter, cut into 4 pieces
3 Tablespoons heavy cream
1 pound fresh blackberries
½ cup sugar (or more, to taste)
2 Tablespoons water
Juice from one lemon
In a medium saucepan, bring the blackberries, sugar, water, and lemon juice to a boil.
Reduce heat and simmer until berries are falling apart and sauce has thickened just a bit, 10-15 minutes
Strain the sauce through a fine mesh sieve, pushing to extract all of the liquid from the berries. Transfer to the refrigerator; sauce will thicken as it chills.
Store in an airtight container in the refrigerator for up to two weeks.
In a medium bowl, whisk together egg yolk, cream and vanilla.
In a food processor, combine flour, sugar and salt. Pulse to combine.
Add chilled butter to food processor, and pulse until it resembles coarse cornmeal. Don't overpulse, you'll melt the butter.
With processor on low, add the egg mixture until the dough just comes together.
Turn dough out on to a large sheet of plastic wrap.
Form the dough into a disc, and wrap with plastic.
Chill in the refrigerator for at least an hour.
After chilling, allow the dough to sit on the countertop for about 10 minutes before rolling.
Lightly flour your counter, and then roll the dough into a shape 2-inches bigger than your tart pan on all sides. Work quickly. If the dough gets too warm, return to refrigerator.
Slide the rolled dough on to a cookie sheet, and return to the refrigerator for 30 minutes.
Transfer the chilled dough to your tart pan.
Loosely drape it over the top, and use your hands to gently form it to the shape of your pan.
Cut the edges by rolling your rolling pin over the top of the tart pan. Discard scraps, or use them to patch holes or imperfections in your crust.
Aim for a distinct, squared bottom to your crust, at a thickness of about ¼ inch. Use scraps to reinforce any thin areas.
Lightly cover shaped dough and tart pan with plastic wrap, and return to refrigerator once more for another 30 minutes.
Meanwhile, preheat oven to 375 degrees (F).
Place tart pan on to a larger cookie sheet.
Spray a large piece of aluminum foil with cooking spray, and press, sprayed side down, into the crust. Take care not to smash your chilled crust.
Fill aluminum foil with pie weights (I use dry beans).
Bake until shell is a pale golden brown, about 30 minutes.
Transfer to a cooling rack and remove foil and weights.
Prepare filling immediately, as shell must be warm when filling is added.
Keep oven at 375 degrees (F).
In a medium, heavy-bottomed saucepan, whisk together eggs and egg yolks.
Add sugar, lemon zest, lemon juice and salt, and again whisk to combine.
Fit pan with a candy thermometer and place pan on the stovetop.
Over medium heat, add the butter and stir constantly until the mixture begins to thicken and reaches 170 degrees. This will take about 5 minutes.
Immediately, pour mixture through a fine-mesh strainer set over a large bowl. Use a rubber spatula to help the curd through the sieve.
Add cream to strained curd and whisk to combine.
Pour the warm curd into your tart shell.
Place filled shell back on the cookie sheet and bake at 375 degrees for 10-15 minutes, or until the center is just slightly jiggly.
Allow to cool completely on a wire rack.
Remove the tart pan (carefully!!)
Garnish with a dusting of confectioners sugar, fresh blackberries, and a drizzle of blackberry syrup.
Enjoy!
Recipe by
Lemon Sugar
at http://lemon-sugar.com/2015/04/lemon-tart-blackberry-syrup.html/