Brown Sugar Crumb Cake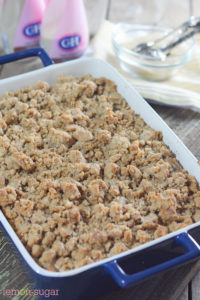 2 cups all-purpose flour
1 teaspoon cinnamon
1 teaspoon baking soda
½ teaspoon salt
½ cup (1 stick) unsalted butter at room temperature
1 and ¼ cups brown sugar, packed
2 large eggs
1 teaspoon vanilla extract
1 cup sour cream
1 cup brown sugar, packed
½ cup sugar
2 teaspoons cinnamon
½ teaspoon salt
1 cup (2 sticks) unsalted butter, melted
2 and ½ cups all-purpose flour
½ cup brown sugar, packed
½ teaspoon vanilla extract
Preheat oven to 350 degrees (F).
Prepare a 9x13 pan with cooking spray. Set aside.
Make crumb topping: in a medium bowl, combine sugars, cinnamon and salt. Add melted butter, and whisk to combine.
Add flour and combine with a rubber spatula until just moistened.
Pour mixture on to a baking sheet and allow it to dry while you make the cake.
In a large bowl, whisk together flour, cinnamon, baking soda and salt.
In the bowl of your stand mixer fitted with the paddle attachment, beat butter and sugar on medium-high until light and fluffy, about 2-3 minutes.
Add eggs one at a time until well combined.
Beat in vanilla.
With the mixer on low speed, add the sour cream and the dry ingredients alternately in 3 parts, beginning and ending with the dry ingredients, beating just until incorporated.
Pour the batter in to the prepared baking dish.
Sprinkle with the crumb topping, gently pressing the crumbs into the batter.
Bake for 30-35 minutes, or until a tester inserted in the center comes out clean.
To make the glaze, combine brown sugar, vanilla and 2 tablespoons water. Whisk until smooth.
When the cake is done, cool for 10 minutes and drizzle the glaze evenly over the top.
Enjoy!