Dark Chocolate Shortbread Tart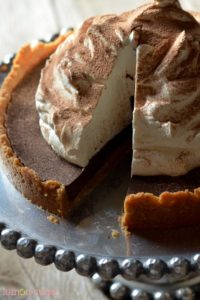 8 ounces shortbread cookies
1 tablespoon sugar
½ teaspoon salt
2 ounces (½ stick) unsalted butter, melted
¾ cup heavy cream
⅓ cup whole milk
5 ounces good-quality dark chocolate (60 to 72%), coarsely chopped
4 ounces good-quality milk chocolate, coarsely chopped
1 large egg, plus 1 large egg yolk
1 tablespoon all-purpose flour
2 tablespoons good-quality vanilla extract
1 and ½ cups whipping cream
¼ cup confectioners sugar
2 teaspoons good-quality vanilla extract
Preheat oven to 325 degrees (F).
Prepare a 9-inch springform pan with a light coating of cooking spray. Set aside
In a food processor, pulse the cookies into fine crumbs.
Pour the crumbs into a large bowl, and add sugar and salt. Stir to combine.
Pour melted butter over the top of the crumbs and combine with a fork until all crumbs are moistened.
Pour crumbs into springform pan, and use your hand or a flat-bottomed cup to spread into an even layer, coming up the sides of the pan about an inch and a half.
Place crust into the freezer for about 15 minutes.
Place the springform pan on a baking sheet, and bake for 10-25 minutes (depends on moisture content of cookies, mostly) or until the crust is just dry. Do not allow the crust to brown, but it must dry before you add the filling or you'll have a soggy crust. You can cover the pan with foil if yours takes a long time to dry.
Remove from oven and set aside while you prepare the filling.
In a small saucepan over low heat, warm the milk and the cream until they begin to bubble at the sides of the pan and just start to steam.
Remove from heat, and stir chopped chocolate into the cream mixture. Stir with a rubber spatula until chocolate is melted, completely combined, and smooth. Set aside to cool for about 15 minutes.
Meanwhile, whisk together egg, egg yolk, flour and vanilla. Whisk vigorously until flour dissolves.
Pour cooled chocolate into egg mixture, and whisk until completely combined.
Pour chocolate mixture into the prepared tart crust.
Again, place the pan on a baking sheet, and bake for about 25 minutes, or until the edges are slightly wet and the center is slightly jiggly.
Transfer to a wire rack to cool completely.
Once cool, run a thin, offset spatula or a butter knife around the edge of the crust. Carefully release the springform.
In a large bowl, beat cream on medium-high speed until the cream starts to firm up.
Add vanilla and confectioners sugar, and continue beating until stiff peaks form.
Spoon over top of tart, and enjoy!
Keep refrigerated.
Recipe by
Lemon Sugar
at http://lemon-sugar.com/2015/02/dark-chocolate-shortbread-tart-2.html/