Do Nothing Cake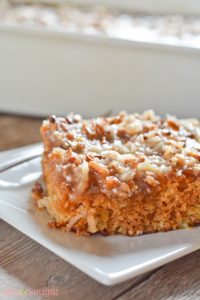 2 cups all-purpose flour
2 cups granulated sugar
2 eggs, slightly beaten
1 teaspoon vanilla
1 teaspoon baking soda
½ teaspoon salt
1 16oz can crushed pineapple with juice
½ cup (1 stick) unsalted butter
1 cup sugar
⅔ cup evaporated milk
1 cup chopped nuts (pecans or walnuts)
1 cup shredded coconut
Preheat oven to 350 degrees (F).
Prepare a 9x13 baking pan with cooking spray.
In a large bowl, whisk together all of the cake ingredients until completely combined.
Pour into pan, and bake for 30 minutes or until a cake tester comes out clean. Don't overbake.
During the last 10 minutes of baking, prepare icing.
In a medium saucepan over medium heat, melt butter.
Add sugar and evaporated milk, and stir to combine.
Bring to a boil and cook for 5 minutes.
Add nuts and coconut.
Pour icing over warm cake.
Enjoy!