Red Velvet Poke Cake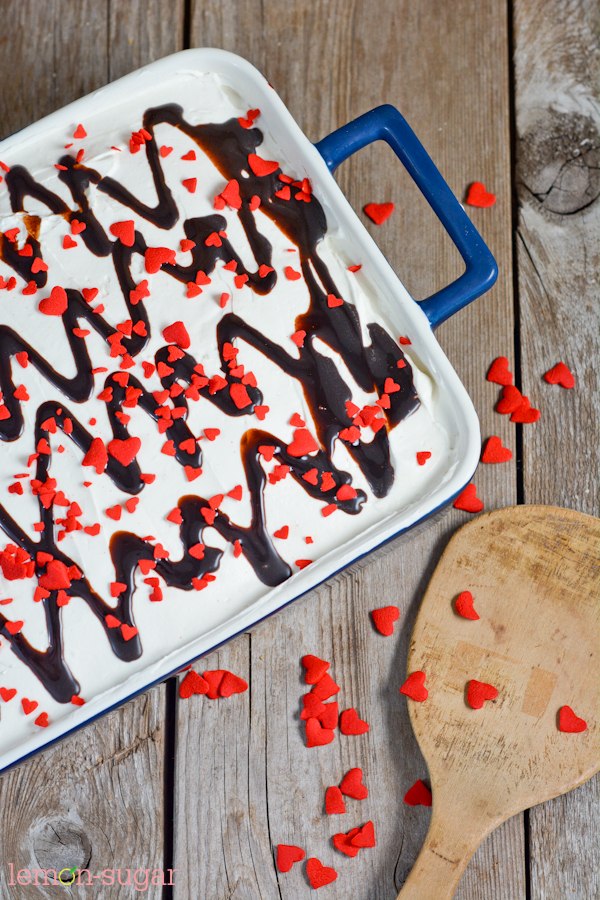 2 and ½ cups cake flour, sifted
1 tsp salt
2 Tablespoons dark cocoa powder
2 eggs at room temperature
1 and ½ cups sugar
1 and ½ cups vegetable oil
1 tsp vanilla extract
1 tsp red gel food coloring , or to color preference
2 tsp vinegar
1 and ½ tsp baking soda
1 cup buttermilk at room temperature
½ cup mini chocolate chips
1 Tablespoon all-purpose flour
1 can sweetened condensed milk
¼ cup chocolate syrup
8 ounces cream cheese, at room temperature
½ cup granulated sugar
2 teaspoons vanilla extract
2 cups heavy cream, very cold
Preheat oven to 350 degrees and spray a 9x13 baking pan with cooking spray.
In a large bowl, whisk together cake flour, cocoa and salt.
In the bowl of a stand mixer using the paddle attachment, beat sugar and oil until well combined.
Add eggs one at a time, beating each until just combined.
Add vanilla and red food coloring.
Alternate flour and buttermilk in three batches – mixing well between each addition, starting and ending with the dry mixture. In a small bowl, stir together the vinegar and baking soda, then add to batter. Mix until just combined.
In a small bowl, mix together mini chips and flour. Sift off extra flour, then stir flour-coated chips into the batter. (The flour prevents them from sinking to the bottom.)
Pour the batter into the prepared pan.
Bake for 30-35 minutes or until a cake tester comes out clean.
Allow to cool on a wire rack for 5 minutes.
Using the handle of a wooden spoon, poke holes about ⅔ of the way down into the cake - about an inch apart.
Pour sweetened condensed milk over the top of the cake. Use a spatula to spread it over the top and guide it into the holes.
Repeat the process with the chocolate syrup.
Refrigerate cake for one hour, or until completely cool.
Prepare frosting.
In the bowl of a stand mixer fitted with the whisk attachment, beat the sugar and cream cheese together until light and fluffy.
Add vanilla and beat to combine.
Add half of the whipping cream and beat until just combined. Use a spatula to scrape the sides of the bowl.
Add the rest of the cream and beat on medium speed until frosting is very thick and creamy. This could take several minutes.
Spread frosting over cooled cake, and top with desired garnishes. I used chocolate syrup, heart sprinkles and mini chocolate chips.
Enjoy!