Salted Caramel Apple Slab Pie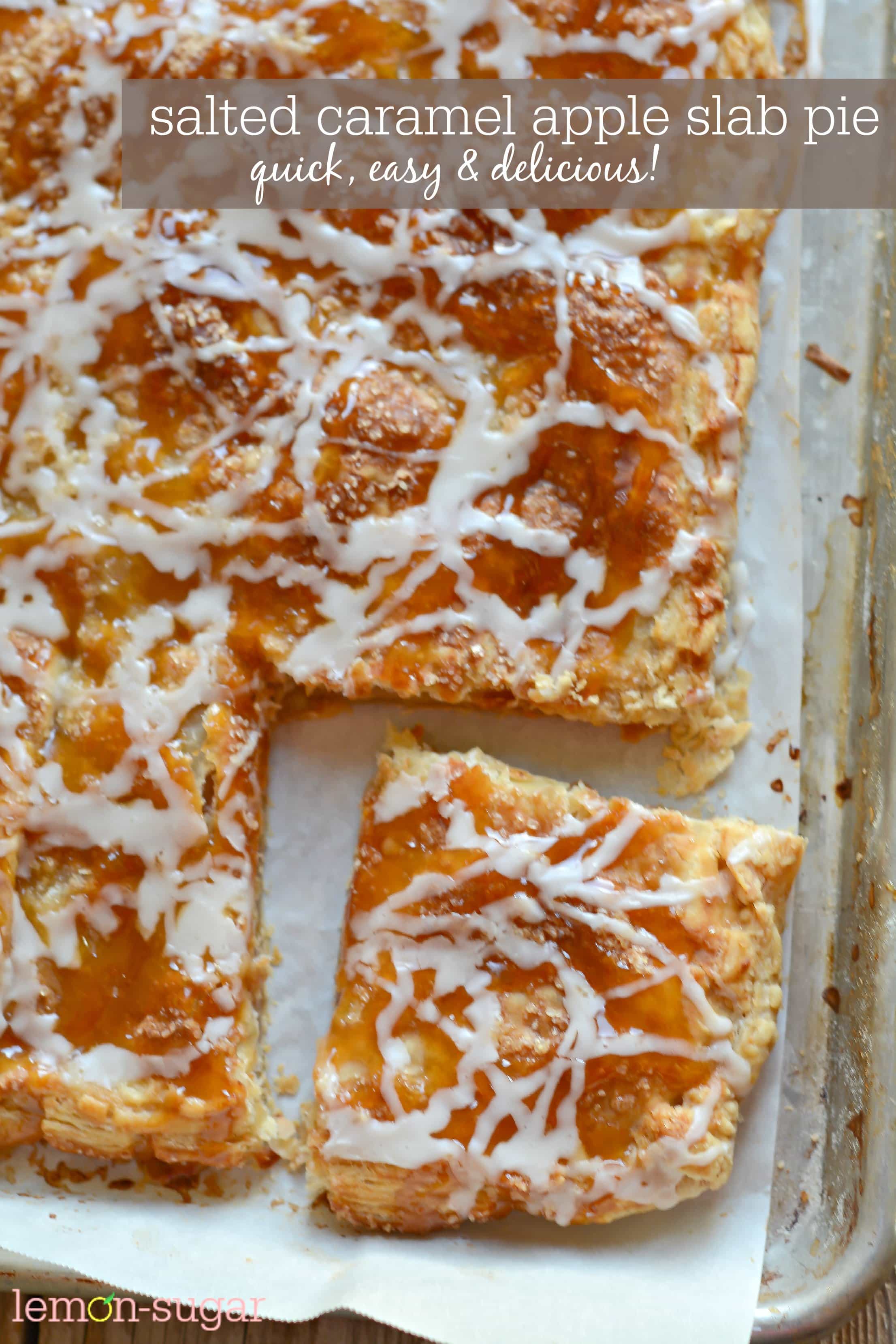 2 and ½ pounds baking apples (I prefer Granny Smith), peeled, cored & thinly sliced - about 7 cups of sliced apples
⅔ cup granulated sugar
⅓ cup all-purpose flour
½ teaspoon ground cinnamon
2 sheets (17.3 ounce pkg) frozen puff pastry, thawed
¼ cup milk, for glazing
¼ cup coarse sugar
1 cup salted caramel sauce (homemade or store-bought)
1 cup powdered sugar
½ teaspoon vanilla extract
dash salt
4-5 teaspoons milk
⅛ cup salted caramel sauce
Thaw puff pastry sheets, if frozen.
Preheat oven to 375 degrees (F)
Prepare a large cookie/baking sheet (15x10) with parchment paper or cooking spray. (I prefer parchment for this recipe.)
Peel, core and slice apples.
In a large bowl, combine apples, sugar, flour and cinnamon. Set aside.
Roll each sheet of puff pastry into a 15x10 inch rectangle. Lightly flour your surface to avoid sticking.
Place one layer of puff pastry on the parchment-lined pan, and lightly stretch to fill the pan.
Carefully spoon the filling over the pastry, leaving a clean, 1-inch border around the apples.
Generously coat the apple filling with salted caramel sauce.
Brush the clean edge with milk.
Place the top pastry over the apples, and fold the bottom layer over the top to seal. Crimp with a fork.
Brush the top pastry with a light coating of milk. Sprinkle generously with coarse sugar.
Cut a few slits in the top pastry to allow steam to escape.
Bake for 50-55 minutes or until the filling is bubbly and the pastry is puffed and golden. You may cover with aluminum foil for the last 15 minutes if the crust is getting too dark.
Remove from oven and prepare glaze.
In a small bowl, whisk together powdered sugar, vanilla, salt and milk. Add more milk if necessary to reach desired consistency (thick but runny.)
Drizzle glaze over the top of the warm pastry. I put mine in a ziploc baggie and cut a small corner off and drizzled over the top.
Follow up with another drizzle of salted caramel sauce.
Serve warm with vanilla ice cream for a real treat.
Enjoy!
Recipe by
Lemon Sugar
at http://lemon-sugar.com/2014/11/salted-caramel-apple-slab-pie.html/