Chocolate Pumpkin Cheesecake Cake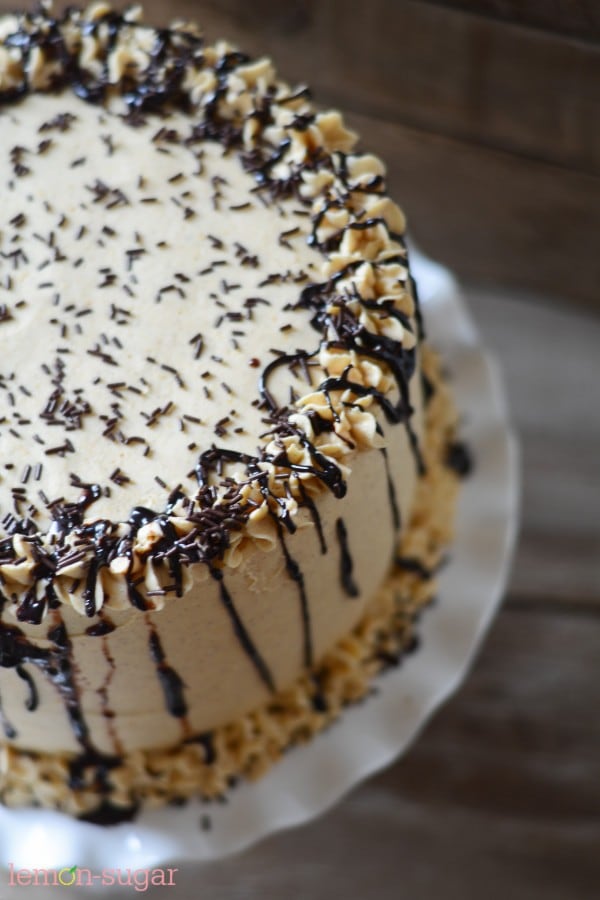 2 cups flour
2 cups sugar
¾ cup Hershey's Special Dark Cocoa powder
2 teaspoons baking soda
1 teaspoon salt
2 large eggs
1 cup buttermilk
1 cup vegetable oil
1 and ½ teaspoons vanilla
1 cup boiling water
3 (8-ounce) packages of cream cheese, softened
1 cup sugar
3 Tablespoons flour
1 teaspoon pumpkin pie spice
1 cup canned pumpkin
4 eggs
½ teaspoon vanilla extract
¾ cup butter
¾ cup shortening
6 cups powdered sugar
¼ cup plus ⅛ cup pumpkin puree
1 teaspoon pumpkin pie spice
Hot fudge sauce, if desired for garnish
4 ounces chocolate chips
⅓ cup heavy cream
Prepare two 9-inch cake pans with parchment and cooking spray. Set aside.
In a large bowl, whisk together all of the dry ingredients.
Add eggs, buttermilk and vegetable oil. Whisk until just combined.
Add vanilla and boiling water, whisk until combined.
Evenly distribute batter between two cake pans, and bake for 35-40 minutes.
Allow to cool in pans for 15 minutes, then remove and cool completely on a wire rack.
Preheat oven to 300 degrees. Prepare a 9 inch springform pan by greasing the sides and bottom. Place on a large baking sheet and set aside.
In the bowl of a stand mixer (or a large bowl), beat together the cream cheese, sugar, flour and pumpkin pie spice on low speed until just combined. Scrape the sides of the bowl as needed, but do not over beat.
Pour the filling into the pan, and tap on countertop a few times to release air.
Bake for 1 hour and 15 minutes. Turn oven off, and leave in oven with door closed for an additional 15 minutes. Crack the door and allow to cool in open oven for another 15 minutes.
Remove from oven and run a knife around the edge of the pan. Chill in refrigerator until completely cool.
In the bowl of a stand mixer, beat together butter and shortening until smooth and creamy.
Add 4 cups of powdered sugar and beat until moistened.
Add pumpkin and pumpkin spice and beat until smooth.
Add remaining powdered sugar and beat until light and fluffy.
Warm cream in microwave until steaming hot but not boiling.
Add chocolate chips, and allow to sit for 2 minutes.
Whisk until smooth.
Place one layer of chocolate cake on to cake stand.
Spread chocolate ganache over the top of the cake.
Place cheesecake on next. Spread with ganache, and final layer of chocolate cake.
Frost with pumpkin frosting, and garnish with chocolate jimmies and hot fudge sauce, if desired.
Enjoy!
Recipe by
Lemon Sugar
at http://lemon-sugar.com/2014/11/chocolate-pumpkin-cheesecake-cake.html/