Maple Bacon Biscuits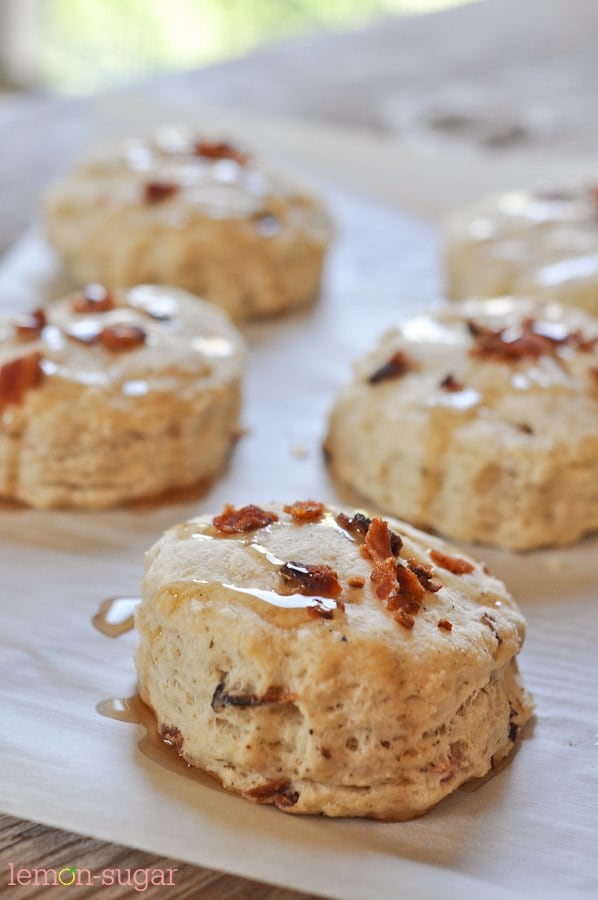 3 cups all-purpose flour
1 Tablespoon sugar
1 Tablespoon baking powder
1 teaspoon cracked black pepper
¾ teaspoon cream of tartar
½ teaspoon salt
¾ cup (12 Tablespoons) unsalted butter, cut into ½ cubes at last minute
1 and ¼ cup buttermilk
6 slices crumbled bacon, divided
¼ cup maple syrup
Prepare bacon, and crumble it. Set aside.
Preheat oven to 450 degrees (F).
In a medium sized bowl, whisk together flour, sugar, baking powder, pepper, cream of tartar and salt.
Cube the butter, then add it to the flour mixture.
Use a pastry cutter to cut the butter until the mixture resembles coarse crumbs.
Make a well in the center of the flour, and add buttermilk and crumbled bacon, reserving 2 slices of bacon for garnish.
Use a fork to stir it until just moistened.
Turn dough on to a lightly floured surface, and shape into a disc. Roll it with a rolling pin until it's 1 inch thick.
Cut with a 3-inch round biscuit cutter, dipping cutter into flour as needed.
Reshape, re-roll and re-cut as necessary until all of the dough has been used.
Place biscuits 1-inch apart on a baking sheet lined with parchment paper.
Sprinkle tops of biscuits with remaining pieces of crumbled bacon.
Bake for 16 to 18 minutes or until golden brown.
Drizzle hot biscuits with maple syrup, and enjoy warm.