Hearts of Palm Street Tacos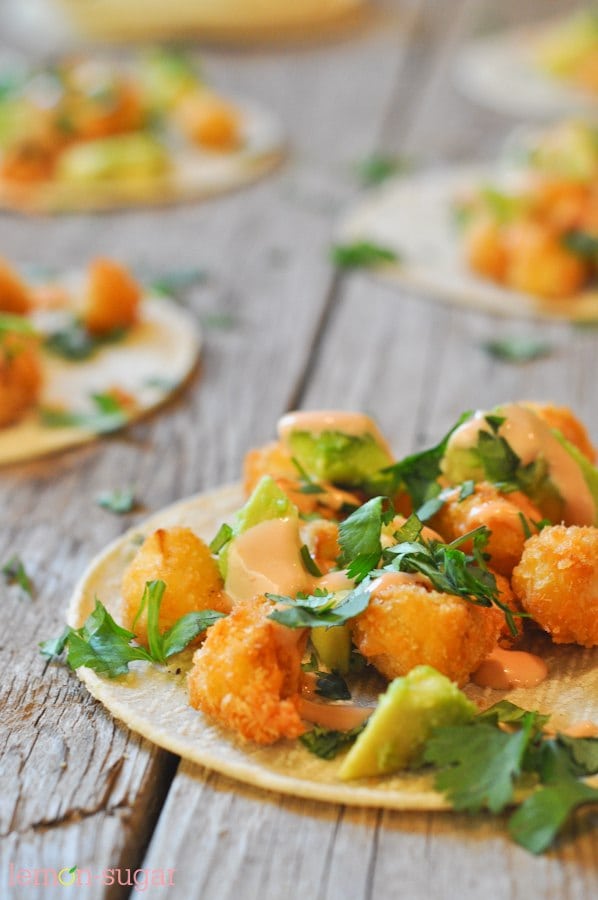 Serves:
6-8 six inch tacos
Canola oil, for frying (enough to fill pan 2 inches deep)
2 cups Panko bread crumbs
1 cup flour
1 cup buttermilk
3 eggs
1 can hearts of palm, small pieces, cubed to ½ inch pieces
2 medium avocados, cubed
1 handful cilantro, chopped
6-8 - 6-inch round white corn tortillas
1 cup mayonnaise
6 Tablespoons ketchup
juice of a small lemon
Chop cilantro, set aside.
Chop avocado, set aside. (sprinkle with lemon or lime juice to keep from browning, if necessary.)
Open and drain hearts of palm.
Chop hearts of palm into ½ inch pieces. Set aside.
Set corn tortillas out to bring to room temperature.
In a small bowl, whisk together mayonnaise, ketchup and juice of a small lemon (1-2 Tablespoons of juice) until completely combined. Set aside.
Set three large, flat bowls (or pie plates) on your work space.
Fill one dish with flour.
Fill one dish with Panko bread crumbs.
In the third dish, whisk together eggs and buttermilk.
In a large dutch oven or cast iron skillet, heat oil to 375 degrees. Use a thermometer (insta-read or candy-type) for best results.
Several pieces at a time, place hearts of palm into flour. Toss to coat completely.
Tap off excess flour, then move coated pieces to the egg wash. Coat completely with egg, then tap off excess egg mixture.
Move to bread crumbs, and toss to coat completely. Place breaded pieces aside.
Repeat for all hearts of palm pieces.
Once all of the pieces are breaded, and the oil is at 375 degrees, carefully place hearts of palm into the hot oil. I use a spider spoon, which makes it easy and safe.
Fry for 2-3 minutes,or until light golden brown.
Remove and place on a plate lined with paper towels.
Heat corn tortillas in microwave until just warm.
Lay tortilla flat.
Top with a few pieces of hearts of palm (about 6-8 per taco), a few pieces of avocado, a sprinkling of cilantro.
Drizzle with about a Tablespoon of the salsa golf.
Enjoy immediately.
Recipe by
Lemon Sugar
at http://lemon-sugar.com/2014/09/hearts-palm-street-tacos.html/