Pumpkin Cinnamon Roll Cake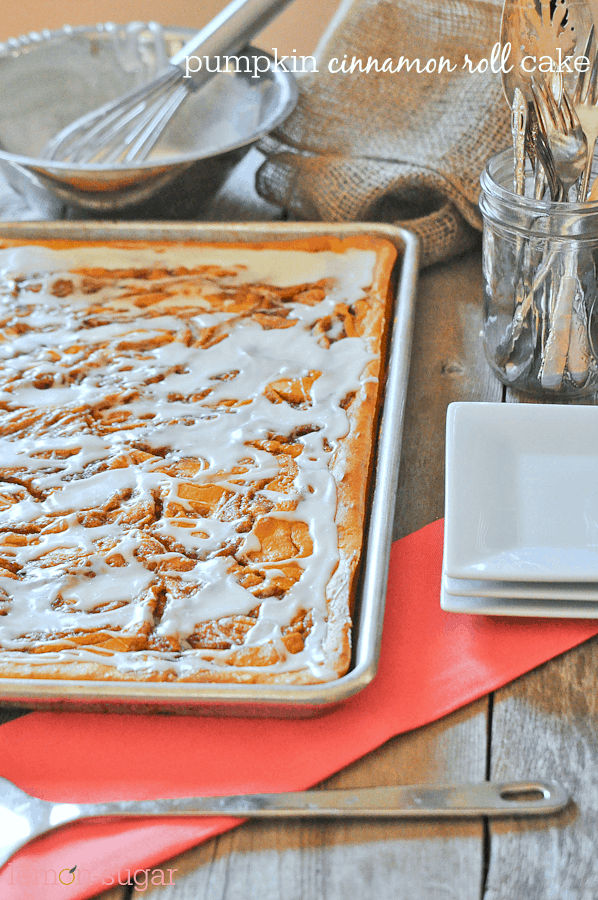 Serves:
Approx 24 servings
1 box yellow cake mix
4 eggs
½ cup canola oil (vegetable oil is fine)
½ cup buttermilk (milk is fine)
3.4 ounce box Vanilla Instant Pudding Mix
½ cup sour cream
15 ounce can pumpkin
1 stick (8 tablespoons) unsalted butter
¾ cup packed brown sugar
½ teaspoon ground cinnamon
¾ cups powdered/confectioners' sugar
¼-1/2 cup heavy cream (start with ¼ cup and add a little more cream if needed)
Preheat oven to 350 degrees (F).
Coat a half-sheet pan (13x18) with cooking spray. Set aside.
In a large bowl (or a stand mixer) combine all cake ingredients (cake mix, eggs, oil, buttermilk, pudding, sour cream and pumpkin) and beat until completely combined, about 90 seconds.
Pour batter into prepared pan, and spread evenly.
Melt butter in a glass measuring cup in the microwave for approximately 30 seconds (don't over-heat, it will pop/explode all over your microwave)
Add brown sugar and cinnamon, and stir until completely combined.
Drizzle sugar mixture over the top of the cake, and use a butter knife to swirl the sugar mixture into the batter.
Bake for 30-35 minutes or until firm in the middle.
While the cake is baking, prepare glaze by combining powdered sugar and cream. Whisk to combine, and add more cream until the glaze is smooth and thick but runny.
Drizzle glaze over the top of the warm cake, and serve immediately.
Enjoy!
Recipe by
Lemon Sugar
at http://lemon-sugar.com/2014/09/pumpkin-cinnamon-roll-cake.html/