Three Layer Oreo Bars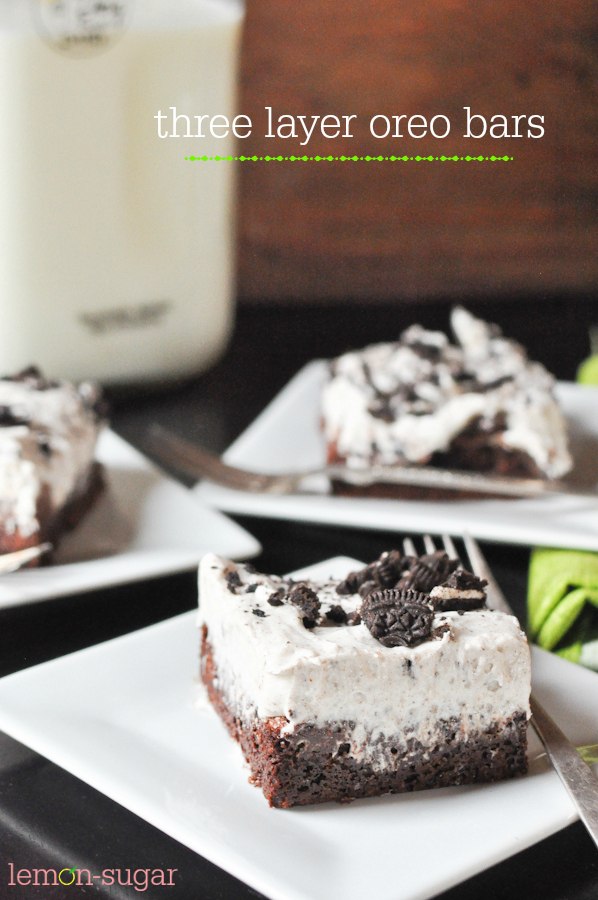 1 box chocolate cake mix
½ cup (1 stick) unsalted butter, melted
1 egg
8 oz cream cheese, softened
4 cups confectioners (powdered) sugar
1 Tablespoon vanilla
2 Tablespoons cocoa powder
¼ cup melted butter
1 egg
16 Oreo cookies, chopped
1 pint whipping cream
2 Tablespoons confectioners' sugar
1 teaspoon vanilla
Preheat oven to 350 degrees (F).
Prepare a 9x13 baking dish by coating with cooking spray. Set aside.
In a large bowl, combine cake mix, 1 egg and ½ cup melted butter until completely combined.
Pour into baking dish, and use a spatula to spread evenly over the bottom of the pan. Set aside.
Using the same bowl, combine softened cream cheese, powdered sugar and vanilla until the mixture is completely moistened and creamy.
Remove half of the mixture and place it in another medium bowl. Set it aside for layer 3.
Add cocoa powder, ¼ cup melted butter and egg to the remaining mixuture. Beat until smooth, using a spatula to scrape the sides of the bowl.
Pour mixture over the top of layer 1.
Bake for 30 minutes, or until completely set.
Remove from oven and allow to cool completely.
Pour whipping cream into a large, clean bowl.
Beat on medium-high speed until thickened. Add vanilla and confectioners sugar, and beat until just combined and cream is thick.
Chop the Oreo cookies, and stir about ¾ of them into the reserved cream cheese mixture from earlier. Save remaining Oreos for topping.
Stir ⅓ of the whipped cream into the Oreo/cream cheese mixture, using a folding motion.
Add another ⅓ of the whipped cream into the mixture, continuing the folding motion, taking care not to stir too vigorously.
Add remaining whipped cream, and fold until completely combined.
Spoon mixture over the top of the cooled bars, and spread evenly.
Sprinkle with remaining chopped Oreo cookies.
Refrigerate for 1 hour or until ready to serve.
Enjoy!