Spiced White Wine Bundt Cake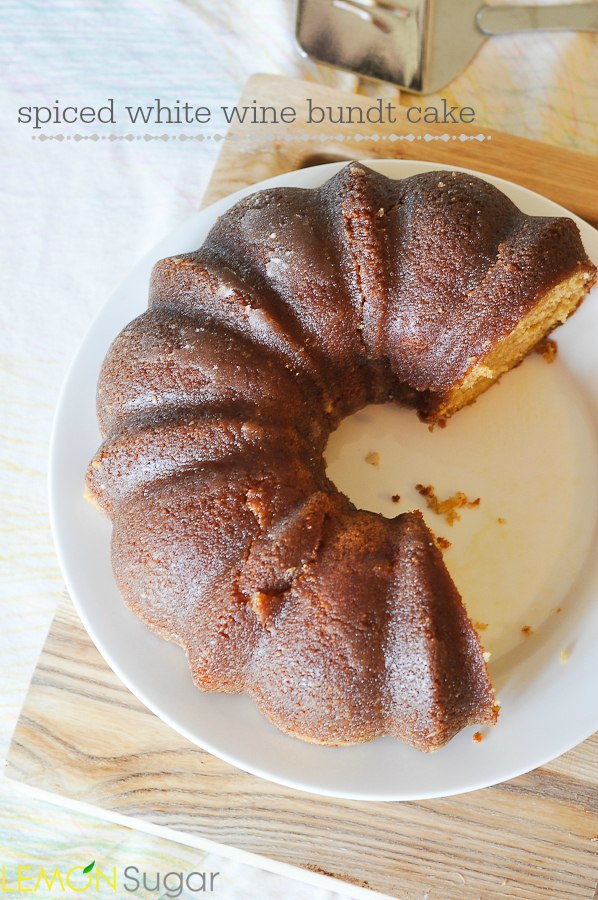 1 box french vanilla cake mix
¼ cup brown sugar
¼ cup white sugar
1 box (3.4oz) instant vanilla pudding mix
2 teaspoons cinnamon
4 eggs
¾ cup water
¾ cup vegetable oil
½ cup sweet white wine
2 Tablespoons flour
2 Tablespoons melted butter
½ cup unsalted butter
1 cup sugar
¼ cup white wine
Preheat oven to 350 degrees (F).
In a small measuring cup, melt 2 Tablespoons of butter in the microwave.
Add the flour to the melted butter, and whisk together until smooth.
Using a pastry brush, generously coat the inside of a bundt pan with the butter/flour mixture. Set aside.
In a large bowl, combine all cake ingredients (cake mix, sugars, water, oil, cinnamon, wine, eggs and pudding mix.)
Beat with an electric mixer until fully incorporated, about 2 minutes.
Pour batter into prepared bundt pan.
Bake for 55 minutes, or until a cake-tester comes out clean.
While the cake is baking, prepare the glaze.
In a heavy-bottomed saucepan over medium heat, melt the butter.
Add the sugar and wine to melted butter, and stir continuously until sugar has dissolved. Set aside.
Take cake out of oven and place on a wire rack.
Immediately pour all of the glaze over the hot cake.
Allow to cool, then invert cake onto a serving plate, and enjoy!
Recipe by
Lemon Sugar
at http://lemon-sugar.com/2014/04/spiced-white-wine-bundt-cake.html/