Sausage & Egg Breakfast Casserole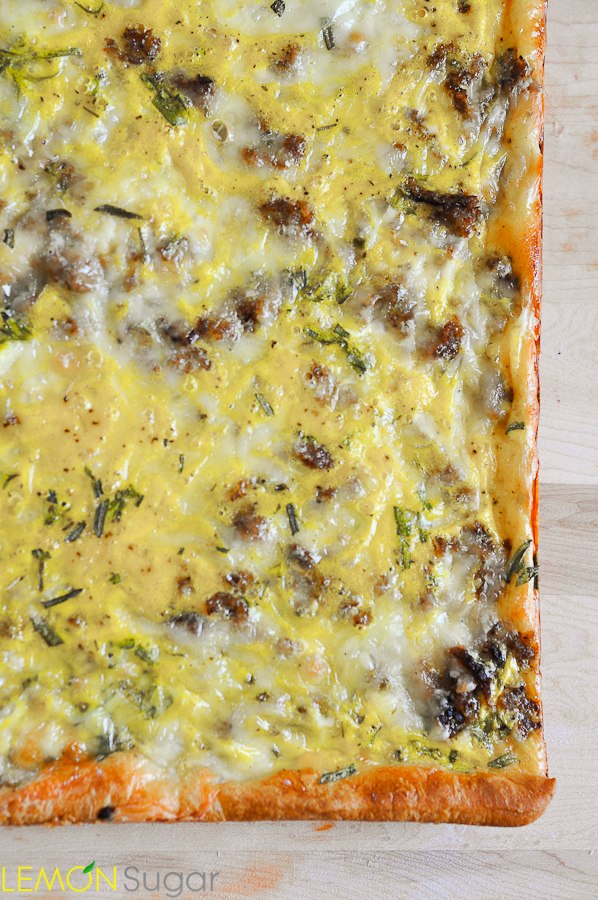 ½ po.und breakfast sausage
1 package crescent rolls
1 cup cheddar cheese, shredded
5 eggs
¼ cup milk
1 teaspoon oregano or fresh rosemary
½ teaspoon salt
¼ teaspoon pepper
Preheat oven to 400 degrees.
Lightly spray a 9x13 pan with cooking spray. Set aside.
In a heavy skillet, brown the sausage over medium heat, and use a wooden spoon to break into small crumbles. Drain grease, and set aside.
Unroll the crescent rolls and place in the bottom of a 9×13 pan, pressing the seams together to make one large sheet of dough. Use your fingers to press the dough just slightly up the sides of the pan as well.
Liberally the sausage over the dough.
Grate your cheese, and sprinkle on top of the sausage.
In a medium bowl, whisk together the eggs,milk, oregano or rosemary, salt, and pepper.
Pour the egg mixture over the top of the casserole.
Bake at 400 degrees for 15-20 minutes until the crust is golden and the eggs are set.
Garnish with additional rosemary and pepper, if desired.
Enjoy!
Recipe by
Lemon Sugar
at http://lemon-sugar.com/2014/02/sausage-egg-breakfast-casserole.html/