Almond Joy Cupcakes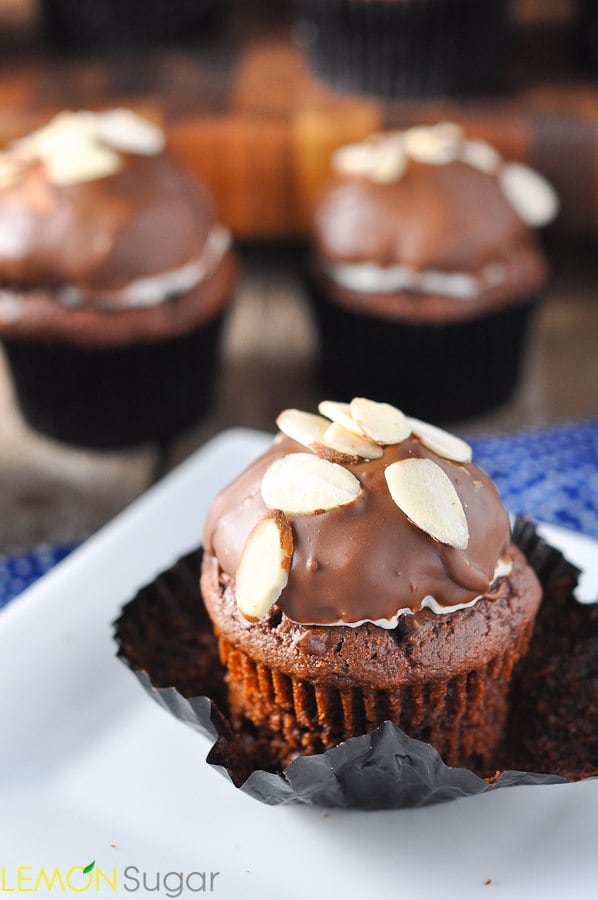 Serves:
Approx 24 cupcakes
1 box Devil's Food Cake Mix
4 eggs
1 cup oil
1 small (3.4oz) package chocolate instant pudding
1 cup sour cream
2 teaspoons vanilla extract
½ cup (1 stick) unsalted butter, softened
8 oz cream cheese, softened
2 cups shredded coconut
1 teaspoon vanilla extract
3-4 cups powdered sugar
2 cups (about 1lb bag) chocolate melts
½ cup sliced almonds
Preheat oven to 325 degrees (F).)
Prepare two cupcake pans (24 wells) with cupcake papers. Set aside.
In a large bowl, combine cake mix, eggs, oil, sour cream, vanilla and pudding. Beat with an electric mixer on medium speed for 60 seconds.
Evenly divide batter among cupcake papers, filling each about ½ full.
Bake 16-19 minutes or until a cake tester comes out clean.
Allow to cool completely on a wire rack.
While cupcakes are cooling, using the paddle attachment, beat together butter and cream cheese in the bowl of a stand mixer until smooth and creamy.
Add coconut and vanilla, and beat to combine.
Add powdered sugar, a cup at a time, until desired consistency is met.
Spoon frosting into a piping bag, and pipe a large dollop of frosting on to each cupcake.
Use a frosting knife to smooth the top of the frosting.
Melt chocolate according to package directions until completely smooth.
Dip each cupcake into the chocolate, and immediately top with a sprinkle of almonds.
Allow chocolate to set, and enjoy!