Kitchen Sink Blondies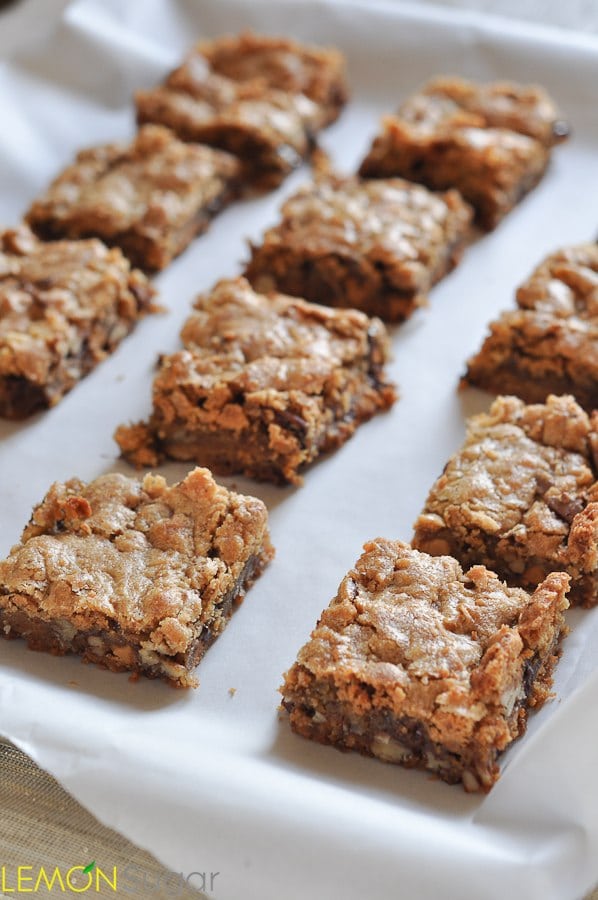 Serves:
12-3 inch brownies
2 cups all-purpose flour
¾ teaspoon baking powder
½ teaspoon baking soda
½ teaspoon salt
2 sticks (8 ounces) unsalted butter, at room temperature
1½ cups (packed) light brown sugar
½ cup sugar
2 large eggs
1 teaspoon pure vanilla extract
6 ounces bittersweet chocolate, chopped into chips, or 1 cup store-bought chocolate chips
1 cup butterscotch chips or Heath Toffee Bits
1 cup coarsely chopped walnuts
1 cup sweetened shredded coconut
Center a rack in the oven and preheat the oven to 325 degrees (F).
Butter a 9×13-inch baking pan and put it on a baking sheet. Line pan with parchment paper so paper flaps hang over the side of the dish. This will help you remove the brownies later.
Whisk together the flour, baking powder, baking soda and salt.
In a stand mixer fitted with a paddle or using a hand mixer, beat the butter on medium speed until smooth and creamy.
Add both sugars and beat for another 3 minutes, until well incorporated.
Add the eggs one by one, beating for 1 minute after each addition, then beat in the vanilla.
Turn the mixer to low and add the dry ingredients, mixing just until they disappear into the batter. Using a rubber spatula, stir in the chips, nuts and coconut
Scrape the batter into the buttered pan and use the spatula to even the top as best you can.
Bake for about 40 minutes, or until a knife inserted into the center of the blondies comes out clean.
The blondies should pull away from the sides of the pan a little and the top should be a nice honey brown.
Transfer the pan to a rack and cool for about 15 minutes before using the parchment to move the blondies out onto another rack.
Allow to cool completely, and enjoy!