Charred Poblano White Chicken Chili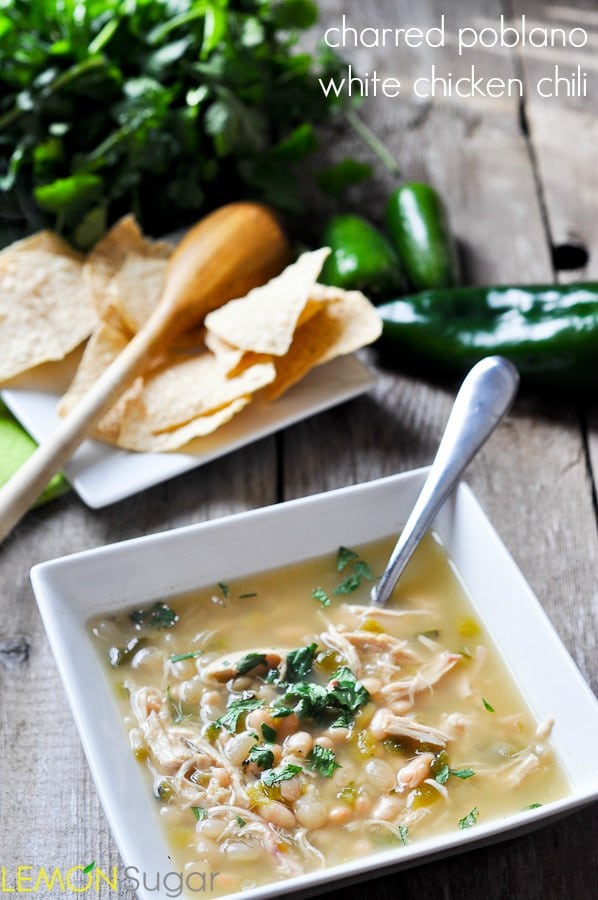 1 rotisserie chicken, shredded
1 Tablespoon olive oil
2 boxes (about 8 cups) chicken stock, low sodium
4 (15oz) cans great northern beans, rinsed and drained
1 large poblano pepper, charred (directions below)
½ medium white onion, chopped
1-2 jalapenos, seeded and chopped (optional)
1 can green chilis, chopped
½ cup salsa verde
1 Tablespoon ground cumin
1 teaspoon black pepper
1 teaspoon garlic powder
1 teaspoon cayenne pepper
salt, to taste
sour cream, for serving
chopped avocado, for serving
tortilla chips, for serving
cilantro, for serving
On a gas-stovetop or grill, lay pepper directly on grate over medium flame.
Carefully watch the pepper, and turn with tongs to char every side until black.
Allow to cool, then peel blackened skin from pepper.
Once cooled, chop into small pieces.
Prepare all ingredients - drain and rinse beans, shred chicken, chop onion and peppers.
In a large soup pan or dutch oven, heat 1 Tbs olive oil over medium heat.
Combine chopped, charred poblano pepper, jalapeno (if using) and onion and heat until onion turns just slightly translucent.
Add remaining ingredients: chicken, chicken stock, beans, green chilis, and spices.
Stir to combine.
Simmer for 30-45 minutes. Taste, and adjust seasoning to fit your liking. Add salt as desired.
Serve with chopped avocado, sour cream, tortilla chips and cilantro.
Enjoy!
Recipe by
Lemon Sugar
at http://lemon-sugar.com/2014/01/roasted-poblano-white-chicken-chili.html/