Iced Oatmeal Cookies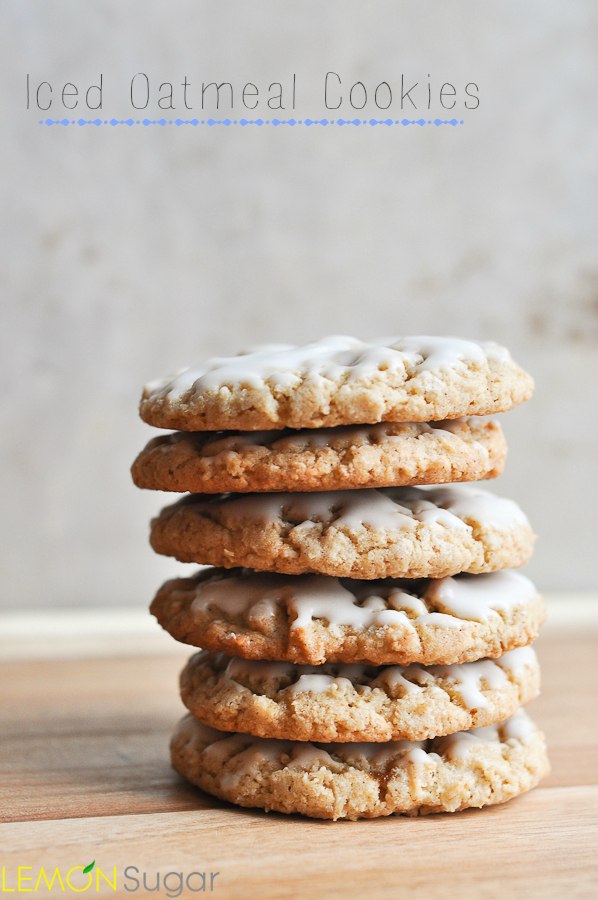 2 cups old-fashioned, rolled oats
2 cups all-purpose flour
1 Tablespoon baking powder
½ teaspoon baking soda
½ teaspoon salt
2 teaspoons cinnamon
¼ teaspoon nutmeg
1 cup (2 sticks) unsalted butter, softened but cool
1 cup light brown sugar
½ cup granulated sugar
1 teaspoon vanilla extract
2 eggs
2 cups confectioners sugar
¼ cup heavy cream (or milk)
Preheat oven to 350 degrees (F).
Prepare a large baking sheet with parchment paper, and set aside.
In a food processor, pulse oats until coarse, but not powder.
Combine oats, flour, baking soda, baking powder, salt and nutmeg in a medium bowl. Set aside.
In a large bowl, cream together butter and both sugars.
Add eggs, one at a time, beating well after each addition.
Add vanilla, beat to combine.
Add flour in three additions, beating each addition until just combined.
Use a small cookie scoop (or a tablespoon) to form 1.5 inch balls of dough.
Place dough on cookie sheet, about 2 inches apart.
Bake for 10-12 minutes or until cookies are just starting to turn golden brown around the edges.
Allow to sit on cookie sheet for a couple of minutes, then transfer to a wire rack to cool completely.
Repeat with remaining dough, but be sure to use a cool cookie sheet for each new batch. I rotate two cookie sheets, giving one time to cool between batches.
While cookies are cooling, prepare glaze.
Whisk together confectioners sugar and heavy cream.
Add more cream if needed to reach a thick but runny consistency.
Dip the top of each cookie quickly into the glaze, then place it back on the wire rack to drip dry and allow the glaze to harden.
Enjoy!