Chocolate Syrup Bundt Cake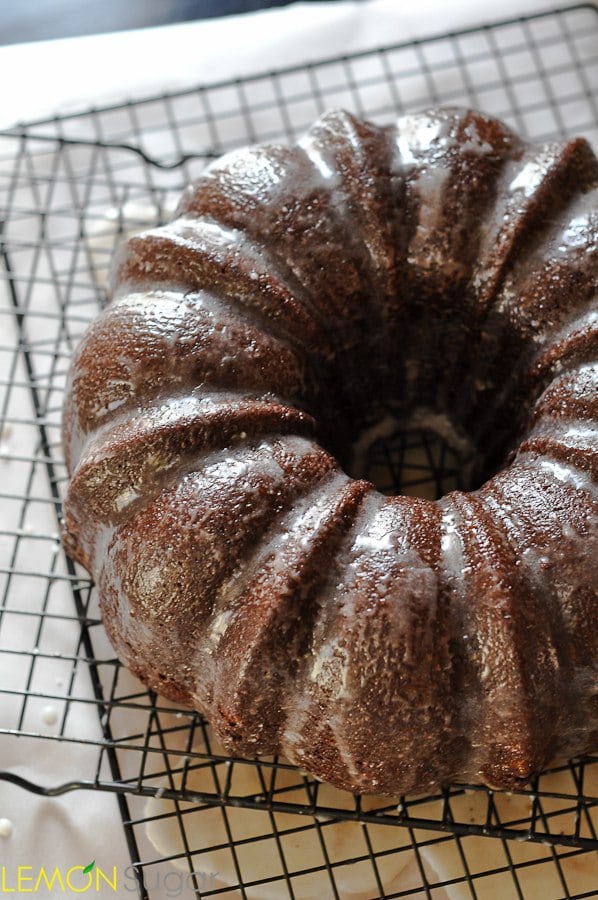 Serves:
Approximately 12 servings
8 ounces semisweet chocolate, coarsely chopped
1 (16-oz.) can chocolate syrup
1 cup butter, softened
2 cups sugar
4 large eggs
2½ cups all-purpose flour
½ teaspoon baking soda
¼ teaspoon salt
1 cup buttermilk
1 teaspoon vanilla extract
2 Tablespoons unsalted butter, melted
2 Tablespoons cocoa powder
2 cups powdered (confectioners) sugar
4 Tabespoons milk
½ teaspoon vanilla extract
¼ cup unsalted butter,melted
Preheat oven to 325 degrees (F).
Melt 2 Tablespoons of butter in a measuring cup.
Whisk in cocoa powder until smooth.
With a pastry brush, generously brush every crevice of your bundt pan. This will prevent sticking.
In a microwave-safe bowl at HIGH for 30-second intervals until melted (about 1½ minutes total). Stir in chocolate syrup until smooth. Tip: Use a rubber spatula to stir the chocolate and fold the syrup into the melted chocolate. This will help prevent your chocolate from seizing.)
Beat butter at medium speed with an electric mixer until creamy.
Gradually add sugar, beating at medium speed until light and fluffy.
Add eggs, 1 at a time, beating just until blended after each addition.
Sift together flour, baking soda, and salt.
Add to butter mixture alternately with buttermilk, beginning and ending with flour mixture. Beat at low speed just until blended after each addition.
Stir in vanilla and melted chocolate just until blended.
Pour batter into prepared 14-cup Bundt pan.
Bake at 325° for 1 hour and 20 minutes or until a long wooden pick inserted in center comes out clean.
Cool cake in pan on a wire rack 15 minutes; remove from pan to wire rack, and let cool 30 minutes or until completely cool.
Stir melted butter and milk into powdered sugar, and whisk until smooth.
Add vanilla, stir to incorporate.
Pour glaze over warm cake. Use a pastry brush to cover the entire cake, if desired.
Enjoy!
Recipe by
Lemon Sugar
at http://lemon-sugar.com/2013/12/chocolate-syrup-bundt-cake.html/