Chocolate Gingerbread Cupcakes with Brown Sugar Buttercream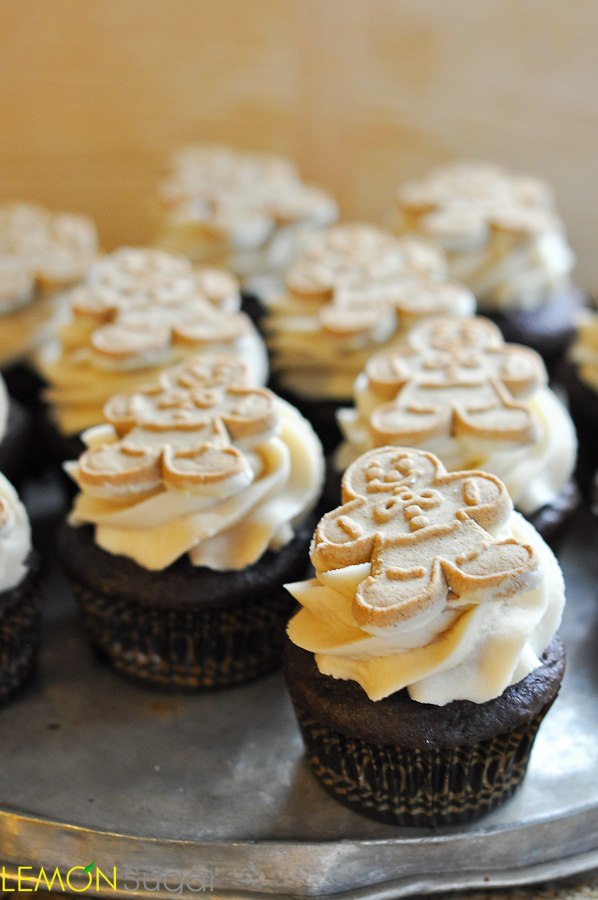 Serves:
Approx 24 cupcakes
¾ cup molasses
¾ cup stout beer (like Guinness)
½ teaspoon baking soda
1 and ¾ cups all-purpose flour
1 teaspoon baking powder
1 and ½ Tablespoons ground ginger
1 teaspoon ground cinnamon
¼ teaspoon ground cloves
¼ teaspoon ground nutmeg
¼ teaspoon salt
8 ounces semisweet baking chocolate, finely chopped
¾ cup superfine white sugar (baker's sugar or caster sugar)
¾ cup packed brown sugar
2 large eggs plus 1 large egg yolk
2 teaspoons pure vanilla extract
½ cup plus 2 Tablespoons vegetable oil
1 and ½ cups (3 sticks) unsalted butter, softened
½ cup packed brown sugar
2-3 cups powdered sugar
⅓ cup heavy cream
2 teaspoons vanilla extract
pinch of salt
Gingerbread cookies, for garnish
In medium saucepan, bring molasses and beer just to a boil over medium heat, stirring occasionally.
Remove from heat and gradually add the baking soda while whisking constantly (mixture will bubble up).
Let stand allowing mixture to come to room temperature.
Prepare two cupcake pans with cupcake liners, and set aside.
Using fine mesh sieve, sift flour, baking powder, ginger, cinnamon, cloves, nutmeg and salt into a medium bowl, whisk together to well combine.
Melt chocolate in heatproof bowl set over a small saucepan of just simmering water over low heat. Remove from heat and set-aside allowing the chocolate to cool slightly.
In bowl of stand mixer fitted with whip attachment, beat together caster and brown sugar, and whole eggs and egg yolk at medium speed until pale in color, about 5 minutes.
Gradually add the oil, beating until just combined.
Add the melted chocolate and beat to just combine.
Reduce mixer speed to low, gradually add the molasses mixture, beating to just combine. Remove bowl from mixer, using flexible rubber spatula, scrape sides, and bottom of bowl. Reattach bowl to mixer and beat, 15 seconds.
Gradually add the flour mixture and beat on low speed until almost combined (well mixed in the center but flour remaining around the edges of the bowl – it's important to not over mix the batter).
Remove bowl from mixer. Using large flexible spatula, scrape sides, and bottom of bowl. Fold the mixture a few times with the spatula to combine the remainder of the flour.
Fill each cupcake well about ½ to ⅔ full.
Bake 18-22 minutes, or until just firm to the touch or a cake-tester comes out clean.
Remove from oven and transfer to wire rack.
Allow to cool completely before frosting.
In the bowl of a stand mixer fitted with the paddle attachment, beat together butter and brown sugar until light and fluffy, about 3 minutes.
Add powdered sugar, salt and cream.
Beat on the lowest speed until just incorporated.
Add vanilla, and beat on high until light and fluffy, about 2 minutes.
Add additional powdered sugar or cream until desired consistency is met.
Spoon frosting into a piping bag, and frost as desired.
Garnish with a gingerbread cookie, if desired.
Enjoy!
Recipe by
Lemon Sugar
at http://lemon-sugar.com/2013/12/chocolate-gingerbread-cupcakes-brown-sugar-buttercream.html/