Carrot Cake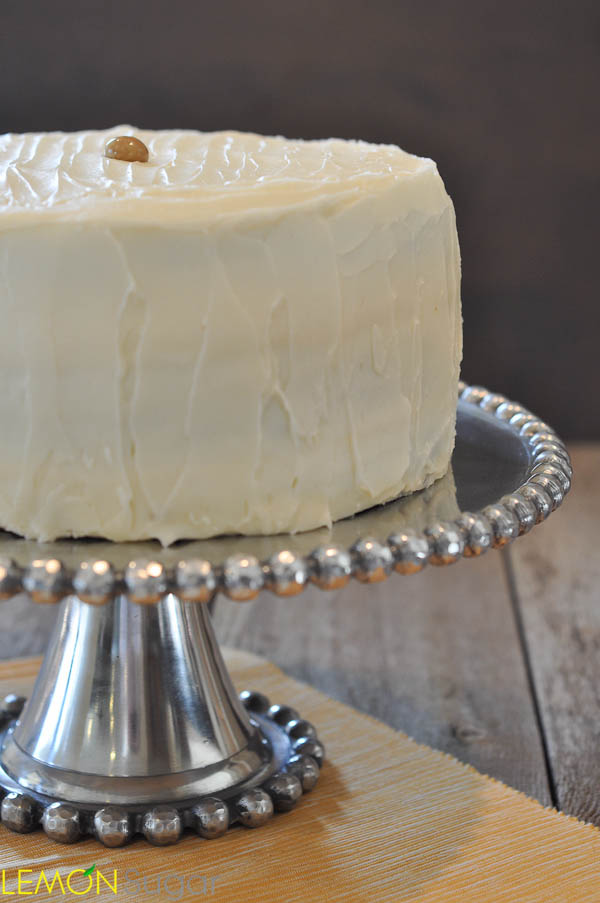 2 cups all-purpose flour
2 teaspoons baking soda
½ teaspoon salt
2 teaspoons ground cinnamon
3 large eggs
2 cups sugar
¾ cup vegetable oil
¾ cup buttermilk
2 teaspoons vanilla extract
2 cups grated carrot
1 (8-ounce) can crushed pineapple, drained
1 (3½-ounce) can flaked coconut (I used the kind in a plastic bag)
1 cup chopped pecans or walnuts
1 cup sugar
½ cup butter
½ cup buttermilk
1 and ½ teaspoons baking soda
1 Tablespoon white/light corn syrup
1 teaspoon vanilla
2 sticks (16 Tablespoons) unsalted butter
16 oz cream cheese (2 blocks)
4 cups confectioners sugar
1 Tablespoon clear vanilla
4 Tablespoons whipping cream
Preheat oven to 350 degrees.
Prepare three 8 inch round cake pans by lining them with parchment paper and spraying with cooking spray.
In a small bowl, whisk together flour, baking soda, salt and cinnamon and set aside.
In the bowl of a stand mixer, combing eggs, sugar, vegetable oil and buttermilk until well mixed. Add flour mixture, and mix until just combined.
Fold in carrots, pineapple, coconut and walnuts and mix well with a spoon.
Pour batter into three cake pans and bake 20-25 minutes or until a cake tester comes out clean. While the cakes are baking, prepare the buttermilk glaze.
In a large sauce pan, combine all ingredients except vanilla over medium heat.
Bring to a boil, and allow to boil for 4 minutes, stirring often.
Make sure you use a large pan as this will bubble up a LOT while cooking.
Remove from heat and stir in vanilla.
Immediately brush cakes with buttermilk glaze (use all of it, equally distributed between cakes) and let sit until completely cooled, about 30-45 minutes.
Frost with cream cheese frosting.
To prepare, whip butter and cream cheese together in the bowl of a stand mixer until smooth and fluffy.
Add confectioners sugar, vanilla and whipping cream, and pulse until moistened.
Whip mixture until light and fluffy, about 4 minutes.
Do NOT attempt to frost a warm cake - let it cool completely.
Refrigerate until ready to serve.
Enjoy!