Biscoff Truffle Brownies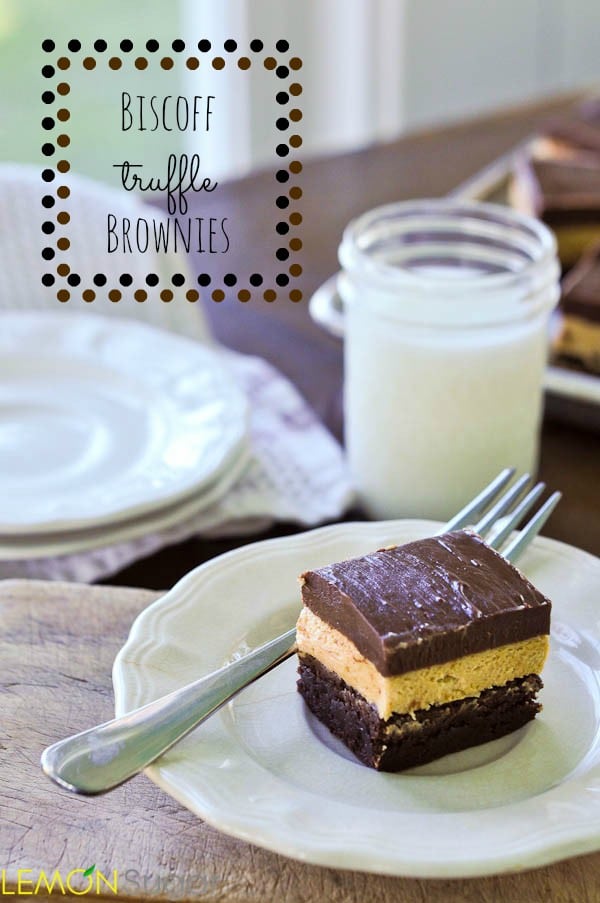 1 cup butter
2 cups sugar
3 eggs
3 teaspoons vanilla
⅔ cup cocoa powder
1 cup all purpose flour
½ teaspoon salt
½ teaspoon baking powder
½ cup butter, softened
½ cup biscoff spread
2 cup powdered sugar
2-3 teaspoons milk
2 cups semisweet chocolate chips
½ cup butter
2 tablespoons heavy whipping cream
Preheat oven to 350 degrees (F).
Spray the bottom and sides of a 8X8 inch metal baking pan with cooking spray.
Place a long piece of parchment paper in the bottom of the pan, letting the parchment extend up two sides of the pan and overhang slightly on both ends. (This will make it easy to remove the bars from the pan after they have baked.) Spray the parchment.
In a medium saucepan over medium heat, melt the butter.
Remove from heat and add the sugar; stir to combine.
Beat in eggs and vanilla until combined.
Add in cocoa, baking powder and salt.
Add flour and stir until just combined and no streaks of dry ingredients remain.
Pour into prepared pan and spread into an even layer.
Bake for bake 25-30 minutes.
Let cool completely in pan on a cooling rack.
While the brownies are cooling, make the biscoff filling.
In the bowl of a stand mixer fitted with the paddle attachment, combine the ingredients and beat until smooth.
Add more milk if necessary to make it spreadable. Spread in an even layer over the cooled brownies.
Place in the refrigerator until filling is set, about 30 minutes.
While the filling is setting, make the ganache, combine the ingredients in a microwave safe bowl. Melt together and combine.
Pour the ganache over the top and spread gently.
Return to the fridge until set.
Enjoy!