Pumpkin Nutella Swirl Cake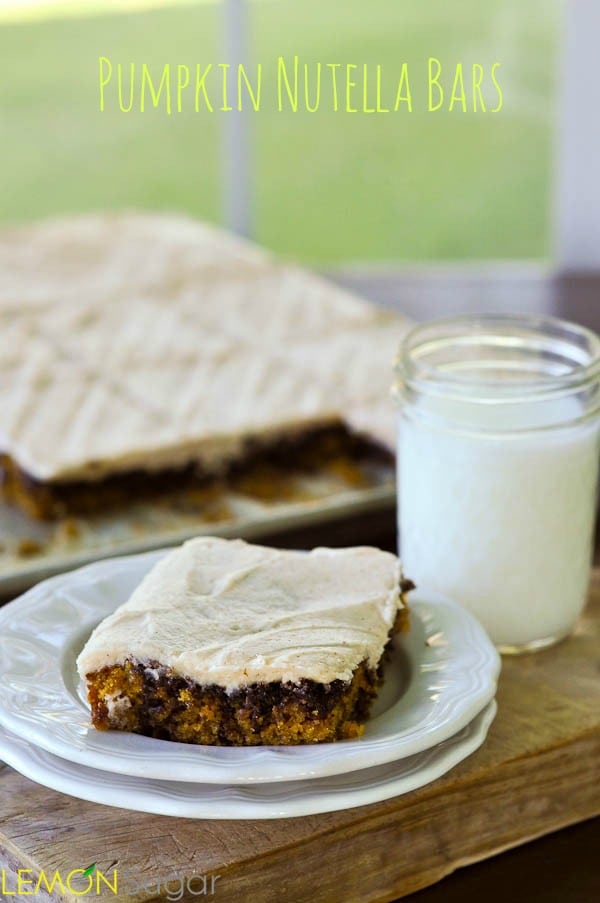 4 eggs
1 and ½ cups canned pumpkin
1 cup oil
2 cups all-purpose flour
2 teaspoons baking soda
½ teaspoon salt
2 teaspoons baking powder
2 teaspoons cinnamon
2 cups granulated sugar
2 teaspoons ground ginger
¼ teaspoon freshly grated nutmeg
1 cup Nutella
16 ounces cream cheese, softened
1 and ½ cups (3 sticks) unsalted butter, softened
6-7 cups powdered sugar
2 teaspoon vanilla
4 teaspoons cinnamon
¼ cup heavy cream
In a large bowl, beat together eggs, pumpkin and oil with an electric mixer.
Add flour, baking soda, salt, baking powder, cinnamon, sugar, ginger and nutmeg. Beat until just combined.
Remove 2 cups of batter, and place in a small bowl.
Add Nutella to the 2 cups of batter, and stir until completely combined.
Spread pumpkin-only batter in greased jelly roll pan (~approximately 16x12x1).
Drop spoonfuls of the pumpkin and Nutella mixture over the pumpkin batter and gently swirl with a knife.
Bake at 350 degrees for 25-30 minutes.
Allow to cool completely before frosting.
Beat together butter and cream cheese until smooth and completely combined.
Add sugar, cinnamon, vanilla and cream, and beat until light and fluffy.
Spread over cooled cake.
Enjoy!
Recipe by
Lemon Sugar
at http://lemon-sugar.com/2013/10/pumpkin-nutella-swirl-cake.html/