Black & White Monster Cookies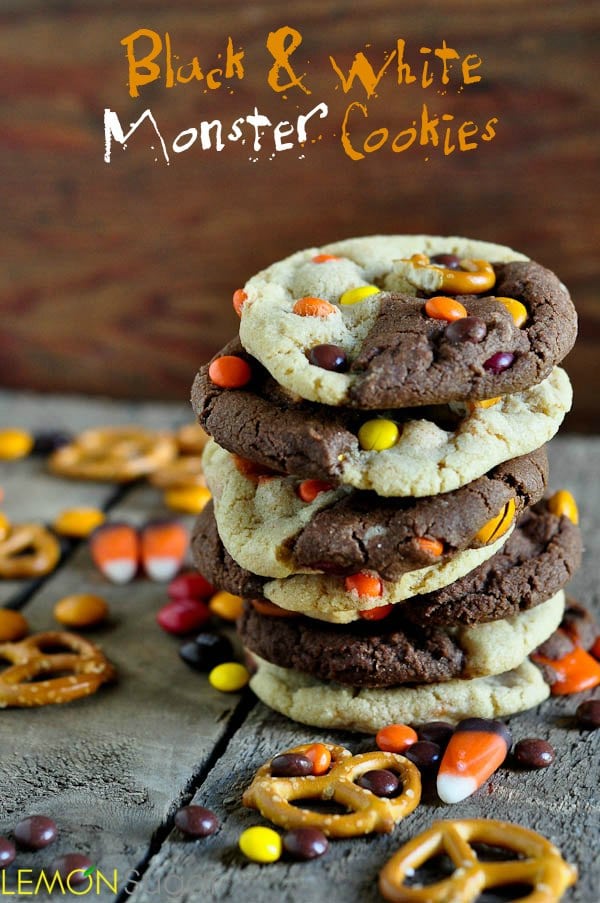 ¾ cup (11/2 sticks) unsalted butter, at room temperature
¾ cup light brown sugar
½ cup granulated sugar
1 large egg
1 teaspoon vanilla extract
½ teaspoon salt
½ teaspoon baking soda
2 cups sifted all-purpose flour
¼ cup Dutch processed cocoa powder
2 cups chopped candy bars, M&M's, peanut butter candies, and other chocolate candy
½ cup broken pretzel pieces
Heat oven to 350 degrees (F).
In a mixing bowl cream together butter, brown sugar, and granulated sugar.
Add the egg and vanilla and beat until fluffy.
Stir in the salt, baking soda, and flour until dough forms.
Remove and reserve half of the dough.
Blend cocoa with dough remaining in mixing bowl.
Gently fold ¾ cup of the candy into the vanilla dough and ¾ cup into the chocolate dough.
Use a cookie scoop to make balls of each dough.
Cut balls in half; combine a vanilla half and a chocolate half to form each cookie.
Press cookies down slightly on baking sheets and top with remaining ½ cup candy and pretzel pieces.
Bake until light golden around the edges and still soft in the center, 12 to 13 min. Cool on baking sheet for 2 min, then remove to cool completely.
Enjoy!
Recipe by
Lemon Sugar
at http://lemon-sugar.com/2013/10/black-white-monster-cookies.html/