Pumpkin Pound Cake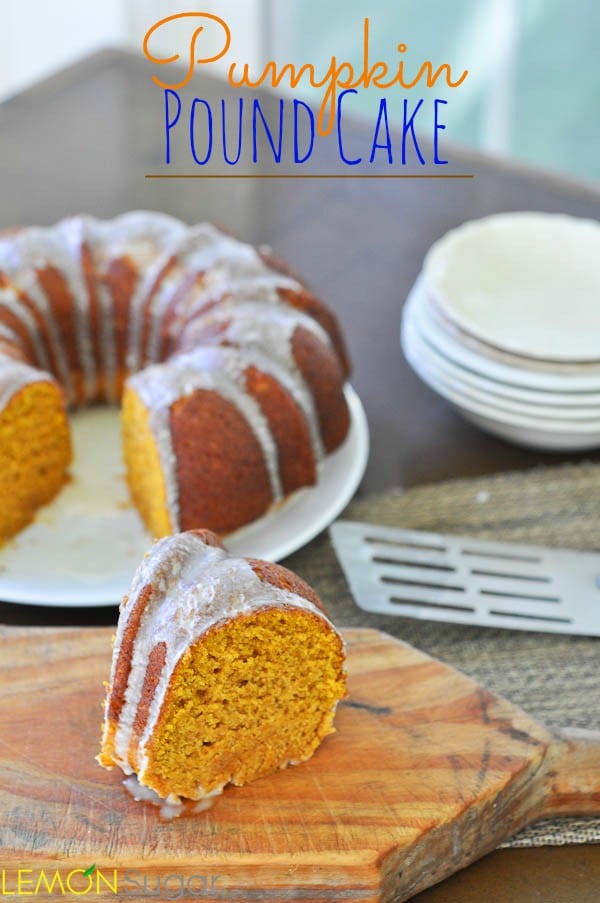 2 and ½ cups sugar
1 cup canola oil
3 eggs
3 cups all-purpose flour
2 teaspoons baking soda
1 teaspoon cinnamon
1 teaspoon nutmeg
½ teaspoon salt
1 can (15 ounces) solid-pack pumpkin
1 cup powdered/confectioners sugar
2-4 Tablespoons heavy cream
1 teaspoon vanilla extract
Preheat oven to 350 degrees (F).
Coat a bundt pan generously with cooking spray, and set aside.
In a medium sized bowl, combine flour, baking soda, cinnamon, nutmeg and salt. Set aside. I
In a large bowl, whisk together sugar, oil, eggs and pumpkin.
Add the dry ingredients to the wet ingredients, and fold together with a large plastic spatula.
Pour batter into prepared pan, and bake for 60 minutes or until a cake-tester comes out clean.
Allow to cool in pan, then flip on to a serving platter.
In a small bowl, stir together confectioners sugar, cream and vanilla. Add more sugar or cream to reach desired consistency, which should be thick but pourable.
Drizzle over cooled cake, and enjoy!