Pumpkin Cupcakes & Homemade Pumpkin Candies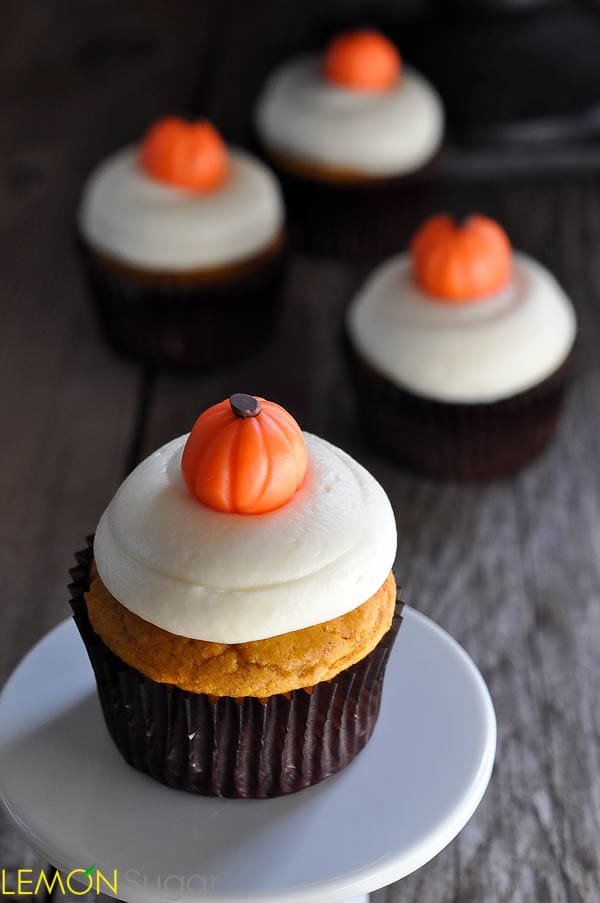 2 cups all-purpose flour
1 teaspoon baking soda
1 teaspoon baking powder
1 teaspoon coarse salt
1 teaspoon ground cinnamon
1 teaspoon ground ginger
¼ teaspoon freshly grated nutmeg
¼ teaspoon ground allspice
1 cup packed light-brown sugar
1 cup granulated sugar
1 cup (2 sticks) unsalted butter, melted and cooled
4 large eggs, lightly beaten
1 can (15 ounces) pumpkin puree
1 cup (2 sticks) unsalted butter, at room temperature
8 ounces (1 box) cream cheese, at room temperature
6-7 cups (slightly less than one 2lb bag) powdered/confectioners sugar
¼ cup heavy cream
1 teaspoon vanilla extract
14 ounces white chocolate candy melts
3 ounces (by weight) light corn syrup
Orange gel or paste food coloring (not liquid)
Mini chocolate chips
Preheat oven to 350 degrees (F).
Line cupcake pans with paper liners; set aside.
In a medium bowl, whisk together flour, baking soda, baking powder, salt, cinnamon, ginger, nutmeg, and allspice; set aside.
In a large bowl, whisk together, brown sugar, granulated sugar, butter, and eggs.
Add dry ingredients, and whisk until smooth. Whisk in pumpkin puree.
Divide batter evenly among liners, filling each about halfway.
Bake until tops spring back when touched, and a cake tester inserted in the center comes out clean, 20 to 25 minutes, rotating pans once if needed.
Transfer to a wire rack; let cool completely before frosting.
Beat together softened butter and cream cheese until completely combined, lump free and smooth.
Add confectioners sugar, cream and vanilla. Beat on low until just incorporated.
Increase speed and beat until light and fluffy.
Frost cupcakes as desired.
Weigh corn syrup, and slightly warm it up in the microwave for about 10 seconds.
Weigh candy, and add to another glass bowl.
Microwave candy in 30 second increments, stirring each time, until completely melted. Stir with a plastic spatula, only.
Add the corn syrup.
Using the plastic spatula, fold and combine the syrup into the candy until syrup is just incorporated. Do not overmix.
Pour the seized chocolate on to a large sheet of plastic wrap, and press it into a ¼" thick disc.
Cover the top with plastic wrap, and allow to sit until very firm, at least 1 hour but up to 8-12 hours.
Once the candy has set, use your hands to knead it until it's soft and pliable. This could take several minutes, so be patient.
At this point, you may place the candy in an airtight container (like a plastic baggie) and store it until you need it. I've stored mine up to 3 months before using it!
To color the candy, add a few drops of food coloring at a time and knead until color is completely incorporated. I would suggest using food-safe plastic gloves for this step.
Once desired color is achieved, roll ½ inch pieces of candy into round balls, and set on a parchment-lined cookie sheet to harden for a few minutes.
Use a toothpick to create a small circle on top of the pumpkin, big enough for the tip of a mini chocolate chip to fit snugly.
Carefully use the length of the toothpick to "roll" down the sides of each ball to create indention lines.
Again, allow pumpkins to sit at room temperature to harden slightly.
Place an upside down mini chocolate chip in the hole at the top of each pumpkin.
Place atop cupcake frosting, and enjoy!
Recipe by
Lemon Sugar
at http://lemon-sugar.com/2013/09/pumpkin-cupcakes-homemade-pumpkin-candies.html/