Cherry Chocolate Coconut Granola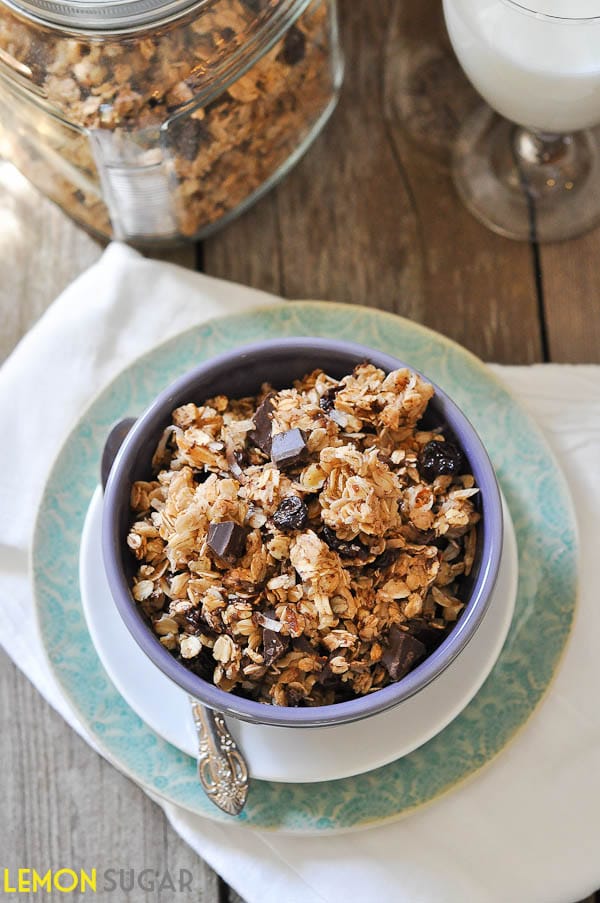 1 cup flaked/shredded coconut (sweetened or unsweetened)
⅓ cup chopped walnuts
⅓ cup chopped almonds (whole, slivers or slices are fine)
3 cups old fashioned oats
3 Tablespoons canola oil
½ cup honey
2 Tablespoons ground flaxseed (optional)
¼ teaspoon cinnamon
¼ teaspoon salt
1 cup dried cherries, chopped or whole
4 ounces coarsely chopped chocolate (bittersweet or semi-sweet is best)
Preheat oven to 325 degrees (F).
Prepare a large sheet pan with parchment paper or a silicon mat. Set aside.
In a large skillet over medium heat, toast the coconut until just golden brown. Pour into a bowl and set aside.
In the same skillet, toast the walnuts and almonds until fragrant and just toasted, about 2 minutes. Pour into a large bowl.
In the same skillet, toast the oats with the canola oil until they just begin to turn golden brown. Pour into the bowl with the nuts.
Add the flaxseed, cinnamon and salt, and toss together.
Pour the honey over the mixture (I like to heat my honey for just about 30 seconds to make it easier to incorporate) and stir to completely combine.
Pour mixture on to the baking sheet, and allow to bake for 15 or 20 minutes or until golden brown. While baking, gently stir the mixture twice.
Meanwhile, chop your cherries (if desired) and coarsely chop your chocolate. Set aside.
Remove mixture from the oven. Add the cherries and coconut to the pan, and toss to combine.
Press mixture into a thick layer, covering half of your sheet pan. Allow to cool completely.
Once cool, break granola into large chunks, and toss with chocolate.
Serve with milk, eat plain as a snack, or serve over yogurt.
Enjoy!
Recipe by
Lemon Sugar
at http://lemon-sugar.com/2013/09/cherry-chocolate-coconut-granola.html/